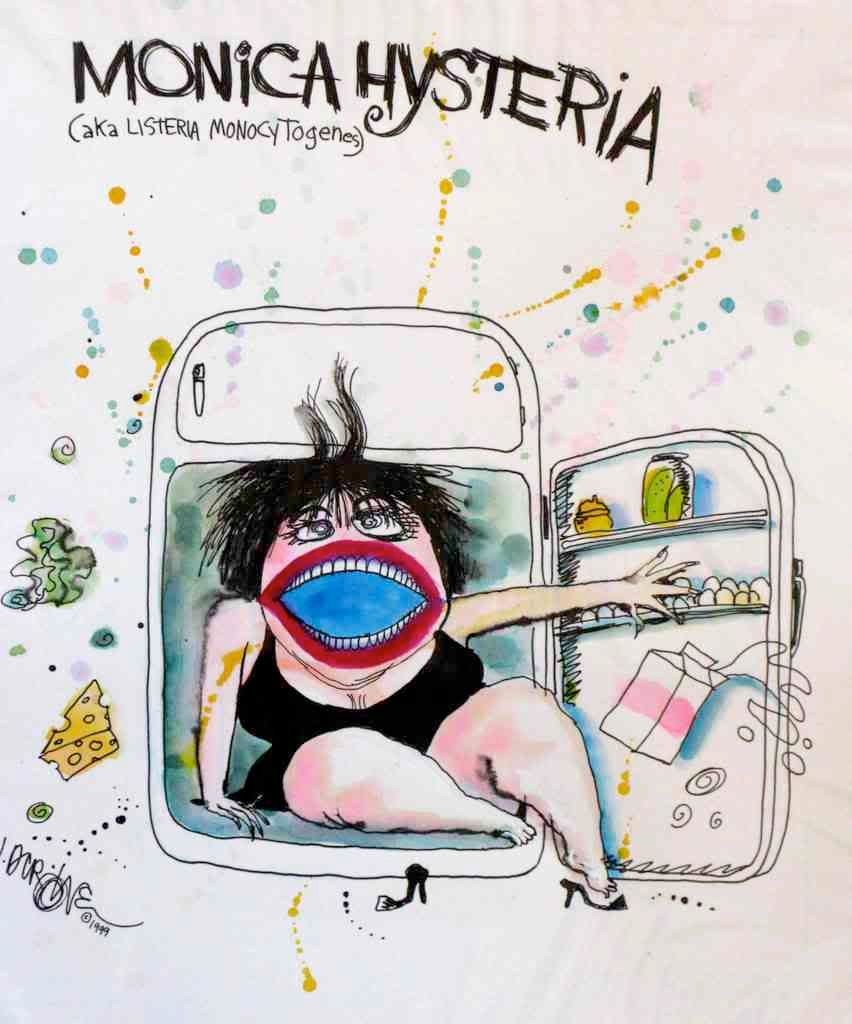 Canadian old-timers might remember the Dominion Store ad jingle. It would appear that, as far as
Listeria monocytogenes
is concerned, there is an extra layer of meaning in that old slogan.
On May 14th
, Smith's Snacks Service, Ltd. (Norman Cove, NL) recalled a single production lot of its Small Sub sandwiches, after CFIA detected
Listeria monocytogenes
in a sandwich sample. 
One week later
, the company recalled a second sandwich – Chicken Club Twister – for the same reason. Both sandwiches carried a Best Before date of JUN/08/08, and both were distributed in Newfoundland and Labrador.
After the second recall, Smith's halted production, arranged for microbiological analysis of its stock of sandwich ingredients,  and carried out an extensive clean-up and sanitation. The company vice-president acknowledged to CBC News that they should have shut down after the initial finding, but pleaded inexperience with the problem.
But
Listeria monocytogenes
is a poltergeist and
SHE'S BAAAAAACK!
Late yesterday,
Smith's announced a recall
of all date codes of its entire outstanding product line - 31 different products. Once again,
Listeria monocytogenes
 has been given as the reason for the recall. The following products (UPC codes begin with 623858) have been recalled:



Deli Lean Ham, Blackforest Ham, Breakfast Ham, Turkey Breast Roast, Chicken Breast Roast, Roast Beef, Large Sub, Large Pizza Sub, Twin Pack, Small Sub, Chuckwagon, Pizza Sub, Chicken Sub, Double Burger, Bacon Egg Cheese, Bacon Cheese Dog, Club Sub, Deli Deluxe, Deli Twister, Hungry Human, Turkey & Dressing, Turkey, Hot Club, Beef & Cheddar, Ham & Cheddar, Egg Salad, Chicken Club Twister, Ultimate Club, Apple Turnover, Blackforest Cake, and Cherry Cream Cheese Turnover.
The recall announcement does not specify whether
Listeria monocytogenes
was found in a finished product, in an ingredient, on a piece of equipment, or elsewhere in the production environment (e.g., a floor drain) in the Norman Cove facility. But the breadth of the recall would point to the likelihood of an environmental or equipment contaminant.
There have been no retail-level recall announcements as yet. We'll report those if and when they take place. For now, consumers in Newfoundland and Labrador should avoid consuming any Smith's Snacks products.