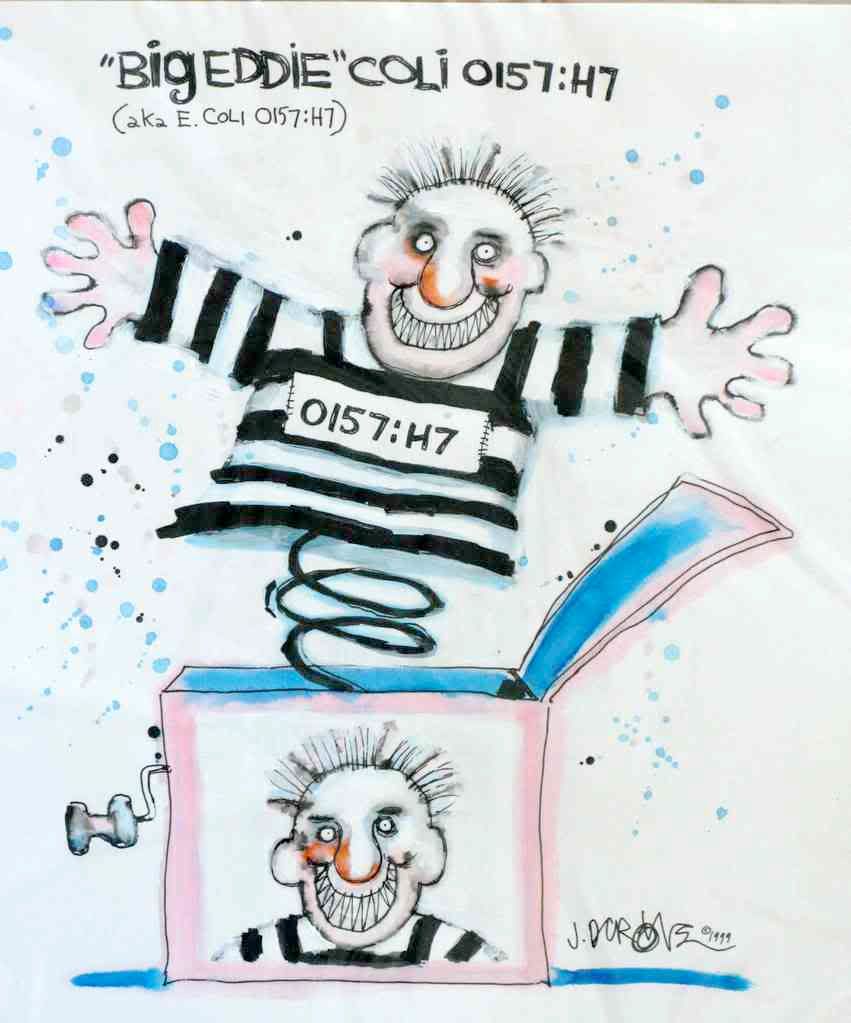 North Bay-Parry Sound
reported this afternoon that the number of
E. coli
O157:H7 cases has risen to 237, of which 46 have been lab-confirmed. All of the confirmed cases are linked directly to the Harvey's Restaurant on Algonquin Avenue in North Bay, and reported an onset of symptoms before October 22nd.
The District Health Unit has received lab reports on food samples up to October 25th. All of the food samples analyzed so far have been negative for
E. coli
O157:H7. Some tests, though, are still in progress.
The 237 cases include residents of North-Bay Parry Sound, nine other Ontario District Health Units, and two other provinces – Québec and British Columbia. All of the districts have supplied North Bay with information obtained from people who ate at Harvey's during the time period of the outbreak and who did not become ill. This information is being combined with information obtained from confirmed and suspected outbreak cases in the hope that the data will point to a probable source of the outbreak strain.
Meanwhile, the investigation into a separate outbreak of
E. coli
O157:H7 in the
Niagara region
is continuing. The number of cases in that outbreak has risen to 36 – 9 confirmed and 27 under investigation. Of the 36 cases, 20 have been linked to the Little Red Rooster restaurant in Niagara-on-the-Lake, and 12 to M.T. Bellies in Welland. Both restaurants have closed and are cooperating in the investigation.
Yesterday, yet another Ontario health unit reported a restaurant-associated outbreak of
E. coli
O157:H7.
Halton Region
is investigating five cases – 2 confirmed and 3 suspected – that have been linked to Johnathan's Family Restaurant, 4121 Fairview Street, Burlington. The restaurant has closed pending the outcome of the investigation. 
The Halton Health Department is asking anyone who ate at Johnathan's between October 13 and October 30, and who subsequently experienced symptoms of
E. coli
O157:H7 gastroenteritis (nausea, diarrhea (possibly bloody), stomach cramps or vomiting), to see their doctor and also to contact Halton Region at (905) 825-6000 or 1-866-442-5866.
It's too soon to know whether the Halton outbreak is due to the same strain of
E. coli
O157:H7 as the Niagara region outbreak. If all three restaurants – each located in a different town – have been victimized by the same strain of
E. coli
O157:H7, this would point to a common food source for the microbe.
It shouldn't take more than a week or so for Halton to obtain genetic fingerprinting of its outbreak strain. In the meantime, both the Niagara and Halton regions will be beating the bushes to find and interview additional victims.