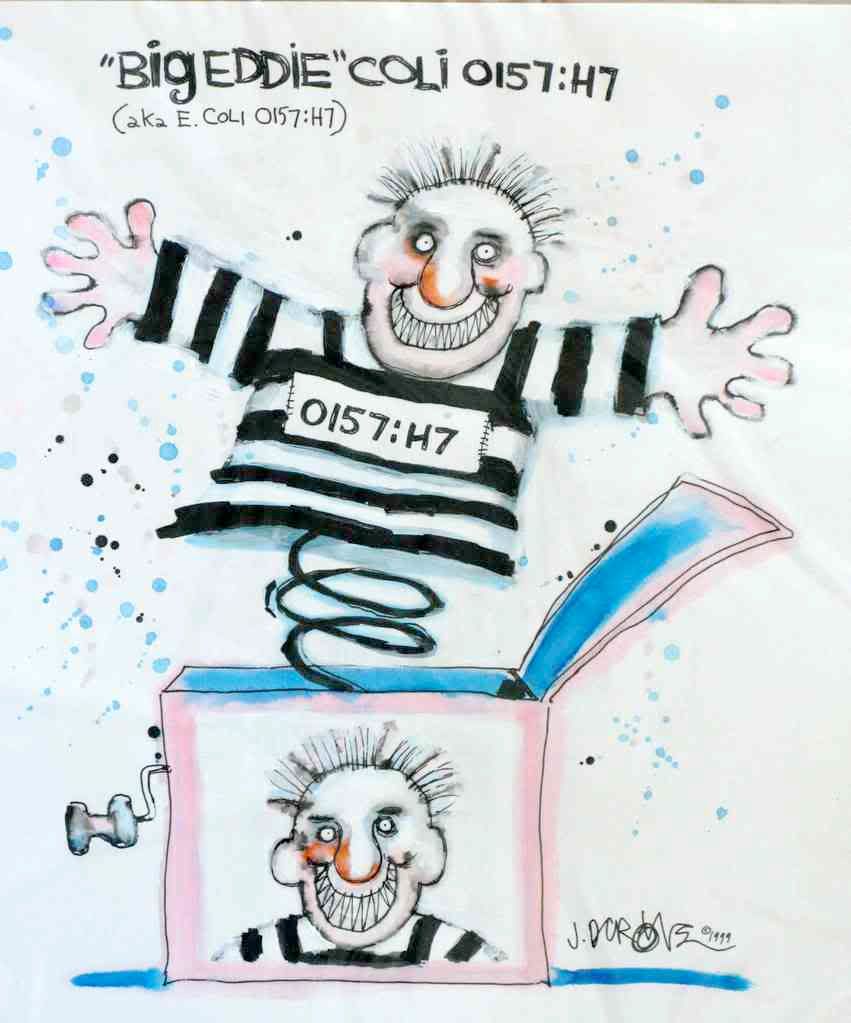 The
Niagara Region Medical Officer of Health
is asking members of the public to contact the health unit if they experienced an onset of symptoms of
E. coli
  illness – severe abdominal pain and bloody diarrhea, possibly accompanied by fever – between October 11th and October 24th.
The request was made after two people were lab-diagnosed with
E. coli
 . An additional three people are also thought to be infected with the microbe. Four of the five victims ate at the Little Red Rooster, 271 Mary Street, Niagara-on-the-Lake. The Health Unit's news release did not specifically mention
E. coli
O157:H7, but bloody diarrhea is a common symptom of this strain.
The restaurant's owners are cooperating with the investigation into these illnesses, including providing food samples for analysis and giving investigators unimpeded access to the restaurant. The link between this outbreak and the Little Red Rooster is not yet certain. The Health Unit is also investigating other possible leads, and hopes that more victims will come forward. With a larger data base, a source for the outbreak can be identified with greater confidence.
While the Niagara Region is focusing on its newly identified outbreak, the
North Bay-Parry Sound District Health Uni
t continues to plug away at what is at risk of becoming another microbiological cold case. Forty-two cases have now been lab-confirmed in the North Bay outbreak, out of a total of 217 suspected and confirmed cases. Victims of this
E. coli
O157:H7 outbreak have been reported from eight other Ontario District Health Units, in addition to Québec and British Columbia.
Today's update from North Bay provided encouraging news about the child who was hospitalized in critical condition after developing hemolytic uremic syndrome. That child, while still hospitalized, has improved and is no longer in critical care.
Epidemiologists say that they received many telephone contacts from healthy people who ate at the Harvey's Restaurant that is the focus of this investigation, and have enough information to carry out their statistical study. 
As yet, "... no specific product or process..." has been identified as the source of the infections. The Ontario Ministry of Health is reviewing test results from this outbreak to determine whether it is linked to any other outbreaks or sporadic cases of
E. coli
O157:H7.