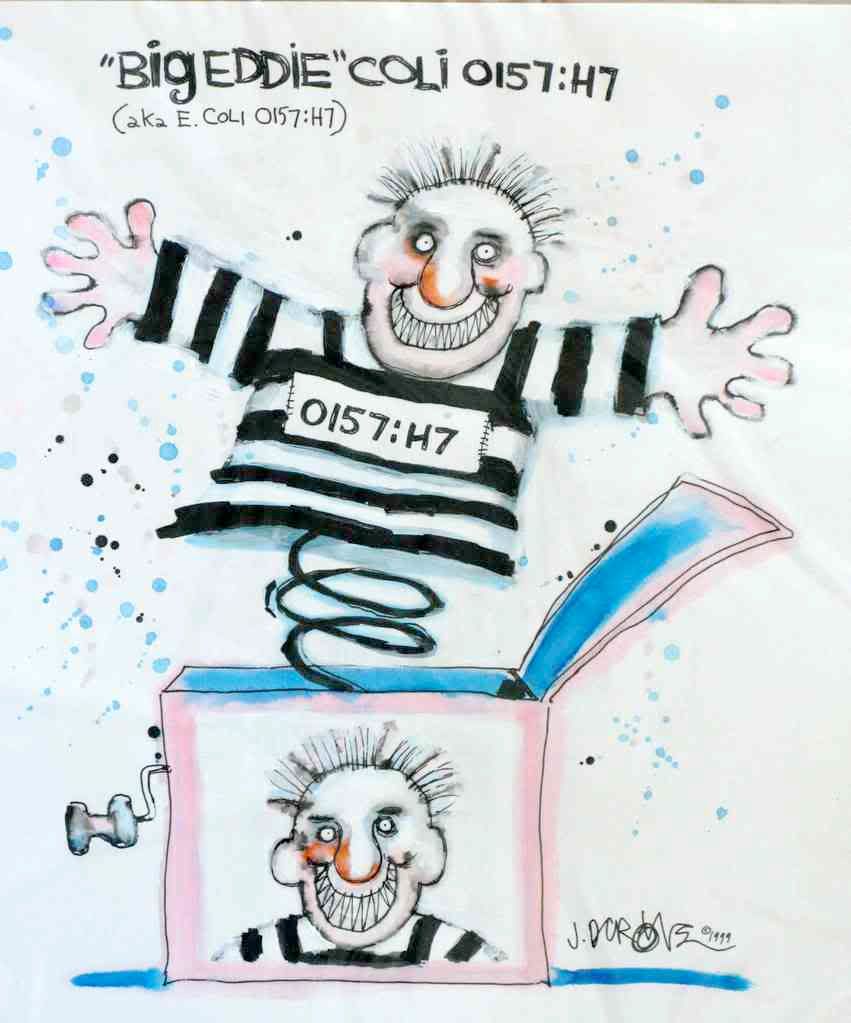 According to the 
Detroit Free Press
,
 Michigan authorities have determined that the
E. coli
O157:H7-contaminated lettuce blamed for sickening 36 people in the state came from California.
The
E. coli
O157:H7 outbreak first made news in
mid-September
, when Ingham County health officials notified Michigan State University that several students had been hospitalized. The students were suffering from symptoms of severe gastroenteritis – including bloody diarrhea. Initially, three students were all confirmed to be infected by the same strain of
E. coli
O157:H7. 
In time, additional MSU students were also confirmed to be carrying the outbreak strain, and
the same strain
of
E. coli
O157:H7 was found in other victims of gastroenteritis in several Michigan counties, as well as in Illinois, Ohio, Oregon and New York. The pathogen also crossed the border into
Canada
– without even showing a passport – and infected at least three people in southwestern Ontario (Chatham-Kent area).
Based on epidemiological evidence, the
Michigan Department of Community Health
concluded that many of the cases could be traced to bagged, pre-washed, shredded iceberg lettuce supplied to restaurants and institutions by Aunt Mid's Produce Company, a Detroit-area produce distributor. So far, investigators have been unable to find
E. coli
O157:H7 in lettuce from Aunt Mid's – or from anyone else, for that matter. This isn't unusual or unexpected. The relatively short shelf life of bagged lettuce precludes investigators from obtaining and testing lettuce that was in circulation at the time of the outbreak.
A
second outbreak
of
E. coli
O157:H7 was unfolding in Boulder, Colorado at the same time as the MSU outbreak. Seventeen people – several of them students at the University of Colorado – complained of gastrointestinal symptoms, including bloody diarrhea. Many of the victims had eaten at
Jimmy John's
, a Boulder sandwich shop. Health authorities are trying to pin down the source of the infections.
Could lettuce also be the source of the Boulder outbreak? It's possible. The California lettuce that was shipped to Aunt Mid's Produce Company in Detroit also was supplied to other wholesalers and distributors. Some of it could have been sold to Jimmy John's.
A key element in the investigation of both outbreaks is the genetic fingerprinting of the outbreak strains. Investigators are certain to compare the strain recovered from the Colorado victims with the strain isolated from the Michigan (
et cetera
) outbreak. If they are identical, the California lettuce also will be a prime suspect in Colorado. If not, the Colorado outbreak may have been due to contaminated meat (we've seen that before), to a food handler who was carrying the pathogen, or to some other food source.
Tune in for the sequel.