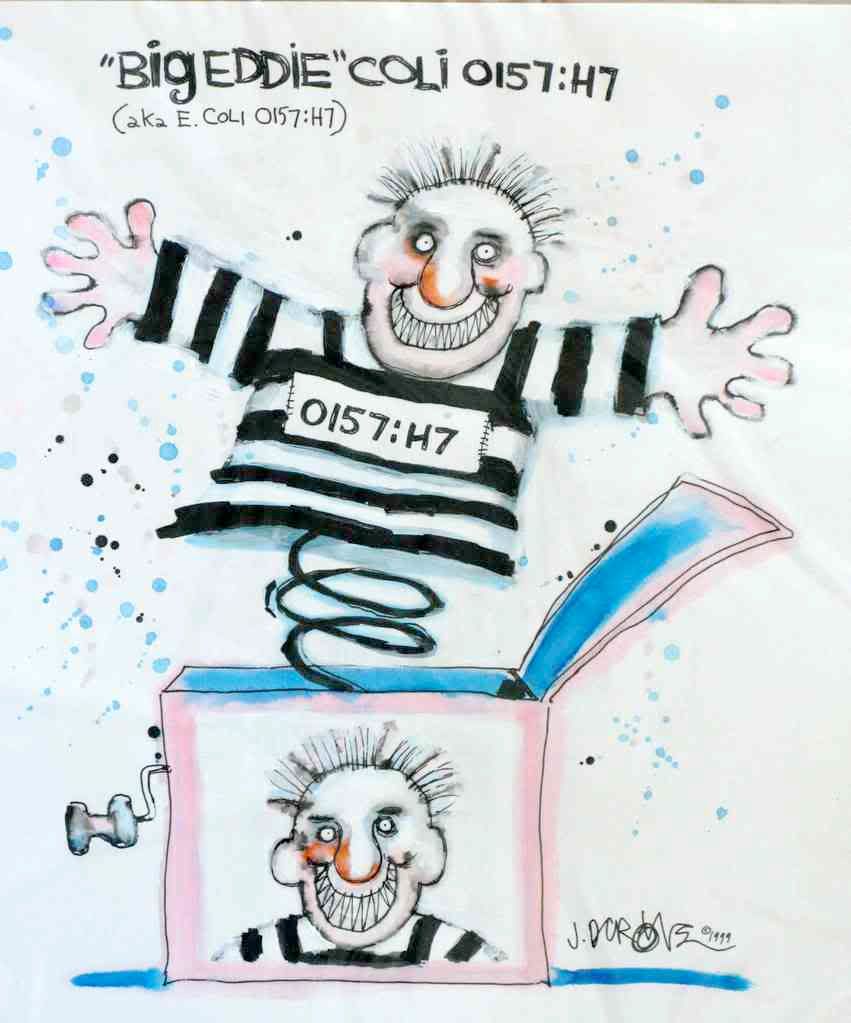 The news releases from the
North Bay-Parry Sound District Health Unit
are getting more terse as time passes without a breakthrough in the
E.
coli
O157:H7 outbreak investigation. Today's release – except for the usual cautions about hygiene – reads:
"There are now 235 cases, of which 45 are lab confirmed for

E. coli

O157:H7. All confirmed cases are linked to Harvey's North Bay and had an onset of symptoms before October 22, 2008. This includes cases from 9 other Ontario Health Units, Quebec and British Columbia. The investigation is ongoing, at this point; no product or process has been confirmed as the source of the outbreak."
Today's news releases from the
Regional Municipality of Niagara
was meatier. The total number of cases of
E.
coli
O157:H7 in the Niagara region outbreak now stands at 31 – 9 confirmed, and 22 under investigation. Eighteen of the 31 cases have been linked to the Little Red Rooster restaurant in Niagara-on-the-Lake and 9 have been traced to M.T. Bellies in Welland. Both restaurants have closed, although the bar at M.T. Bellies remains open.
Niagara also reports that preliminary genetic fingerprinting of their outbreak strain indicates that it is not the same as the North Bay strain. There has been no confirmation of this from North Bay, which has remained silent on the progress of genetic fingerprinting, even though
eFoodAlert
has questioned them directly on more than one occasion.
According to the news update, the Niagara region outbreak is not associated with municipal drinking water supplies. Lab tests are in progress on food samples from both restaurants, but no results have been released. The owners of both restaurants are reported to be cooperating in the investigation.
The Niagara Region Public Health authorities are asking any residents or visitors who have experienced bloody diarrhea on or after October 11, 2008 to visit their family physician or a walk-in clinic, as they may be suffering from an infection with
E. coli
O157:H7.