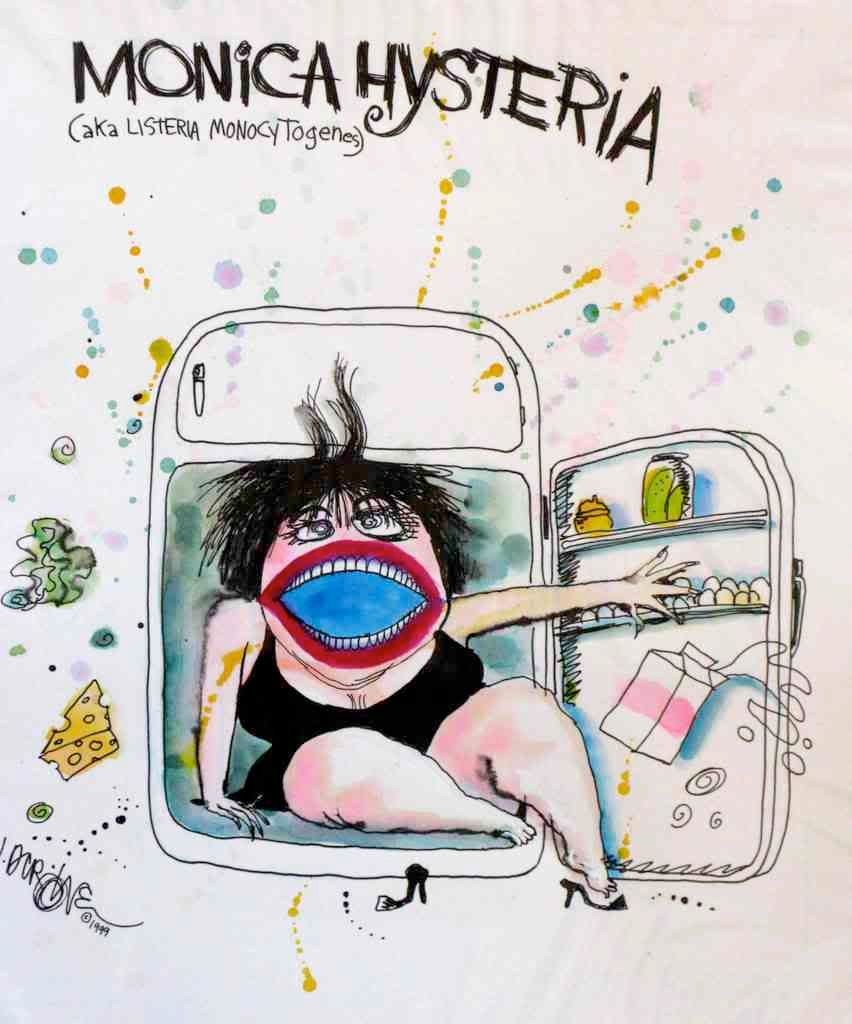 Fifty-three individuals in seven Canadian provinces
were infected with
Listeria monocytogenes
as a result of consuming contaminated deli meat from Maple Leaf's Bartor Road production facility, according to yesterday evening's update from the Public Health Agency of Canada.
Ten of those innocent victims died. An additional 10 suspect cases and 6 more deaths are still under investigation in what will likely turn out to be the worst food safety scandal in Canadian history. 
One month ago
, in calling for a full, public Judicial Commission of Inquiry into this outbreak, I raised several questions that were begging for substantive answers. The news that has been filtering into media reports in the past few days reinforces, in my opinion, the need for an investigation conducted by an impartial Commission that is independent of any government department.
Toronto public health officials

, as part of an investigation into the then-suspected outbreak of listeriosis, tested 26 samples of Maple Leaf meats obtained from local nursing homes, hospices and hospitals. Seventeen of those samples contained

Listeria monocytogenes

. Half of the samples collected from similar facilities elsewhere in the province also were contaminated with

Listeria monocytogenes

. This is an extraordinarily high frequency of positive samples, which signals massive contamination at the factory during processing or packaging.
On August 14th,

Toronto public health officials warned CFIA

of the link between contaminated Maple Leaf deli meats and the listeriosis outbreak, and asked CFIA to issue a public advisory. CFIA demurred, stating that it needed to wait for more data before making a public announcement. The first – very limited – alert was issued three days later on

August 17th

. It took two more days before

CFIA sounded a full alert

and Maple Leaf recalled all outstanding production from the Bartor Road facility.
On April 1st,

CFIA changed a long-standing policy

with regard to

Listeria monocytogenes

notification by industry. Prior to April 1st, meat processors were required to notify CFIA immediately of any

Listeria monocytogenes

-positive test result, either in the production environment or in finished product. The CFIA inspector would become involved in the clean-up and would follow up to verify the effectiveness of clean-up procedures. Beginning April 1st, CFIA inspectors only check

Listeria monocytogenes

test records twice a month. They no longer have "hands-on" involvement in the testing or follow-up.

Maple Leaf re-started operations in the Bartor Road facility on September 17th, with close oversight from CFIA. The startup was subject to
the following three conditions
:
The CFIA will allow limited trial runs for a three-day period where product will be held and tested each day based on a rigorous sampling plan. The effectiveness of inspection and processing controls will also be validated.

Production will stop until test results come back. Only if test results are negative and operating procedures are determined to be in compliance will the company be able to begin broader production.

For the following six weeks all product will be held and tested in lots and will only be released if negative test results are received.

It's very fortunate that these conditions were in place, because
four new samples
of finished product have tested positive for
Listeria monocytogenes
. Since the facility is operating on a "test and hold" basis, none of these products have been shipped. We don't yet know whether this is the outbreak strain of
Listeria monocytogenes
, or a different strain that has found its way into the plant and into the products.
Maple Leaf's President, Michael McCain, has pointed out –  correctly – that
Listeria monocytogenes
is pervasive in the environment. An occasional positive is not unexpected. What's important is the action that a food processor takes to overcome the contamination. 
And what's equally important is the action that the government takes to ensure public health and safety.