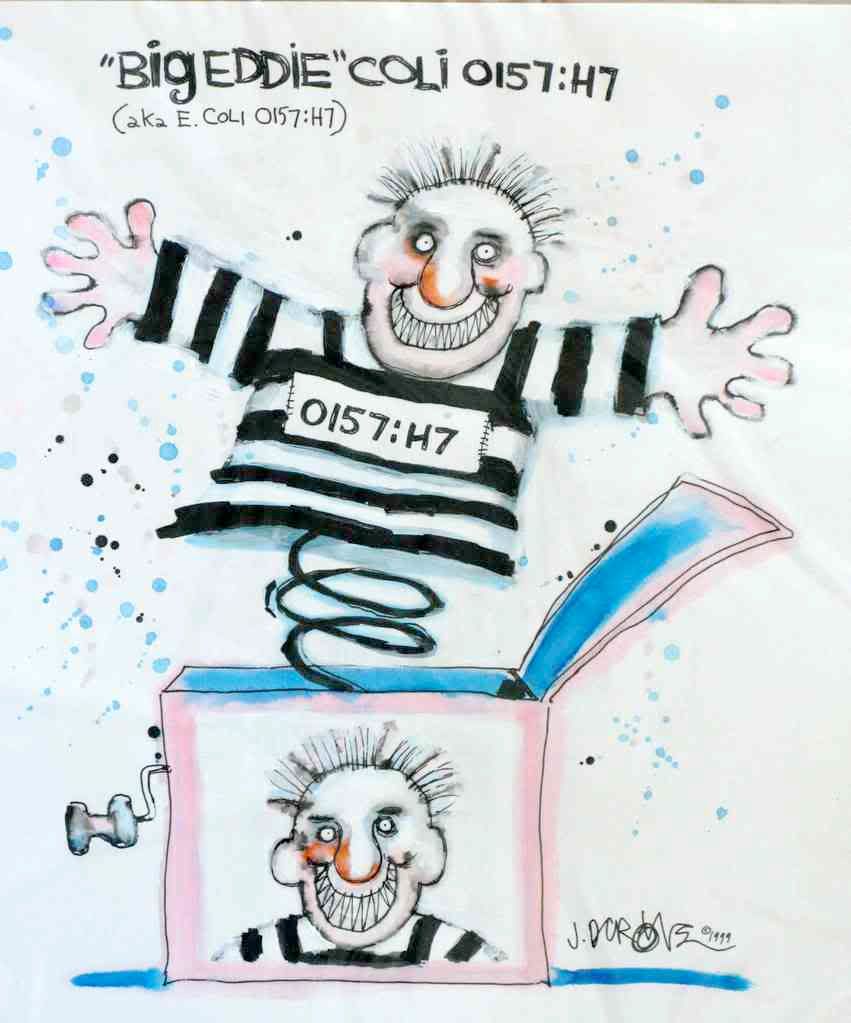 The
North Bay-Parry Sound District Health Unit
 reported today that the total number of confirmed and suspect cases in this outbreak investigation now stands at 190 – up significantly from
yesterday's total of 158
. Thirty-six of the 190 cases are lab-confirmed as
E. coli
O157:H7. 
We've been told by the District that confirmed cases are defined as patients from whom
E. coli
O157:H7 has been isolated; suspect cases are patients whose symptoms match those expected from an infection with
E. coli
O157:H7, and who began to experience their symptoms during the outbreak time frame. As of today, no genetic fingerprinting (PFGE) results are available. 
The Medical Officer of Health believes that the sharp increase in cases is due to more cases coming out of the woodwork as the news of the outbreak continues to spread through the province. In addition to North Bay, suspect cases have been reported in eight Ontario health districts. Québec, too, has reported at least one case.
We've learned that the other districts reporting one or more cases possibly linked to this outbreak include Sudbury, Porcupine, Timiskaming, Simcoe-Muskoka, Hastings Prince Edward County and York Region. There is no indication whether any of these cases have been confirmed.
The investigation into the source of the outbreak seems an eerie parallel of the
Oklahoma
E. coli
O111 outbreak
investigation earlier this year. Most of the victims ate at the same restaurant – Harvey's North Bay – within a fairly narrow time frame. Tests of food and water samples so far have failed to detect the presence of
E. coli
O157:H7. The District has not yet released information on the investigation into food handlers as a possible source, except to say that the restaurant and its employees are cooperating.
The District Health Unit is continuing to interview suspect victims of this outbreak, in the hope of determining what food or foods might be the source of the infections. Investigators are actively seeking the assistance of anyone who ate at Harvey's Restaurant on Algonquin Avenue in North Bay between the dates of October 1st and October 12th. By comparing the items eaten by those who became ill and those who remained healthy, investigators might be able to determine the source of the
E. coli
O157:H7. People who fall into this category are asked to contact the North Bay-Parry Sound District Health Unit at (705) 474-1400 or (800) 563-2808.
Unfortunately, epidemiological analysis is chancy under these circumstances. In a fast food burger restaurant like Harvey's, most people order similar meals. And not everyone will remember what toppings they had with their burgers, or whether they had a salad. The longer it takes, and the more complex the investigation, the less likely that a definitive answer will be forthcoming.
The best chance of determining the source of the outbreak is if the outbreak strain can be matched genetically to a previously isolated
E. coli
O157:H7 from a recent food recall or a recent outbreak elsewhere. Otherwise, the North Bay outbreak may simply be added to a long list of "unexplained outbreaks."