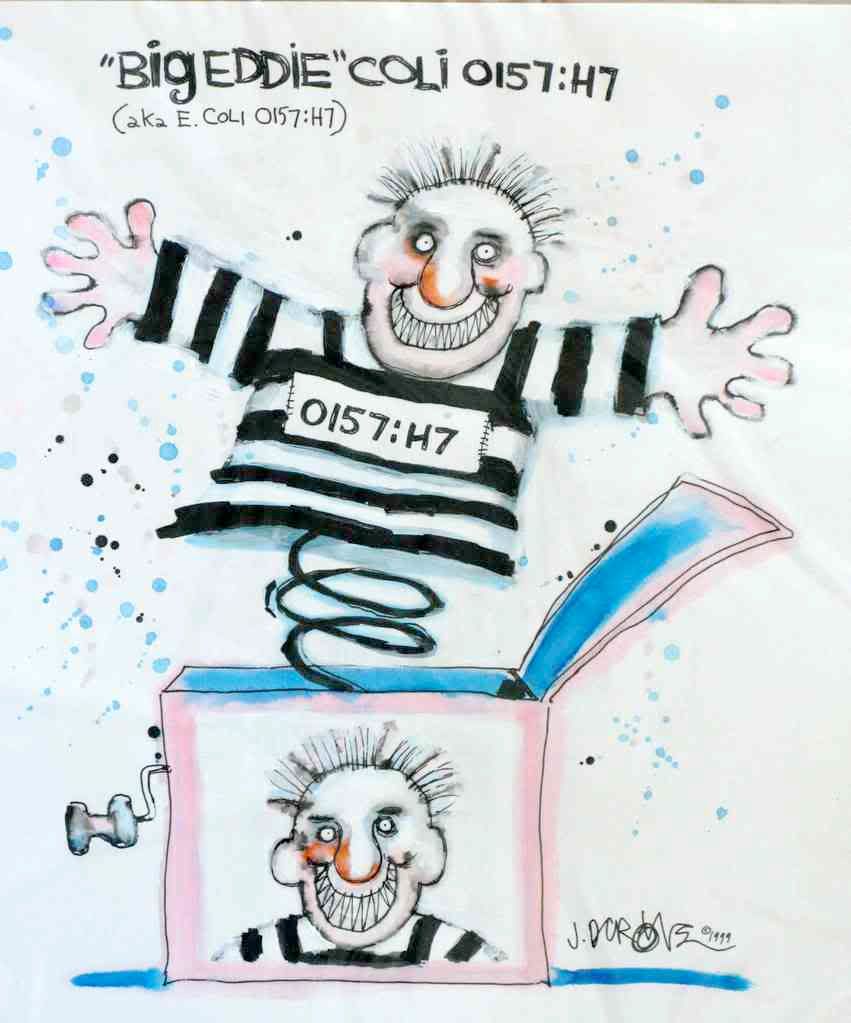 We now have at least five outbreaks of
E. coli
O157:H7 with overlapping time frames. One has to wonder how much of this is coincidence, and how much is due to a common food item.
The Michigan,
et al.
Outbreak
This outbreak, which has involved
at least 50 people
(38 in Michigan, 9 in Ohio and 3 in Canada), was linked epidemiologically to bagged, pre-washed iceberg lettuce grown in California and supplied by Aunt Mid's Produce Company of Detroit. Outbreak victims consumed the chopped or shredded lettuce in restaurants and food service outlets – including dining facilities on the campus of Michigan State University. Aunt Mid's, in spite of abundant epidemiological evidence, denies that their lettuce was the source of the outbreak.
The Company bases its denial
on the inability of investigators to detect the outbreak strain in packages of their lettuce, or in their processing environment. The Michigan Department of Community Health has given Aunt Mid's the go-ahead to resume operations.
The Boulder, Colorado Outbreak
The Boulder Public Health Department has traced an outbreak of
E. coli
O157:H7 to the Boulder franchise location of
Jimmy John's Gourmet Sandwiches
. The sub and sandwich shop has been fingered as the most likely source of the outbreak, which has sickened 18 people, according to
recent reports
. One of the outbreak victims – a University of Colorado student who was hospitalized twice as a result of her infection – has launched a lawsuit against Jimmy John's.
The
Kansas Department of Health and Environment
is investigating the deaths of two children in different parts of the state. Both children were infected with
E. coli
O157:H7, but the infections were unrelated to each other – each was due to a different strain of the pathogen. The state has not yet established the source of either infection.
We reported yesterday
that the State of Vermont was investigating ten cases of
E. coli
O157:H7, at least seven of which are all due to the same strain. A report in
today's Burlington Free Press
indicates that two more cases have been identified – bringing the total to 12 – and that the outbreak has been traced to a single source of ground beef, which was distributed to a few restaurants in the state.
The North Bay, Ontario Outbreak
The
North Bay-Parry Sound District Health Unit
is dealing with an outbreak of
E. coli
O157:H7 that has grown to include 93 victims – 15 of them lab-confirmed – so far. Seventy-five of the victims ate at the same Harvey's Restaurant outlet in North Bay.
Harvey's
is a Canadian fast food burger franchise, with outlets in seven provinces. The Health Unit has not yet identified a probable food source for the outbreak.
Coincidence or Correlation?
There's a reasonable chance that the Michigan and Colorado outbreaks are related. In fact, we suggested that possibility
last Friday
. Lettuce is an ingredient in many – if not most – sandwiches and subs, while it would be less likely for Jimmy John's to serve undercooked beef. The Kansas outbreak clearly is coincidental – two isolated cases caused by two different strains – as is the Vermont outbreak, which now has been linked to undercooked ground beef from a single source. 
As for the Harvey's outbreak in North Bay, Ontario, the jury is still out. Undercooked ground beef is an obvious possibility – this is a burger chain, after all. But Harvey's also offers a 
garden salad
 side dish. Hold the lettuce, anyone?