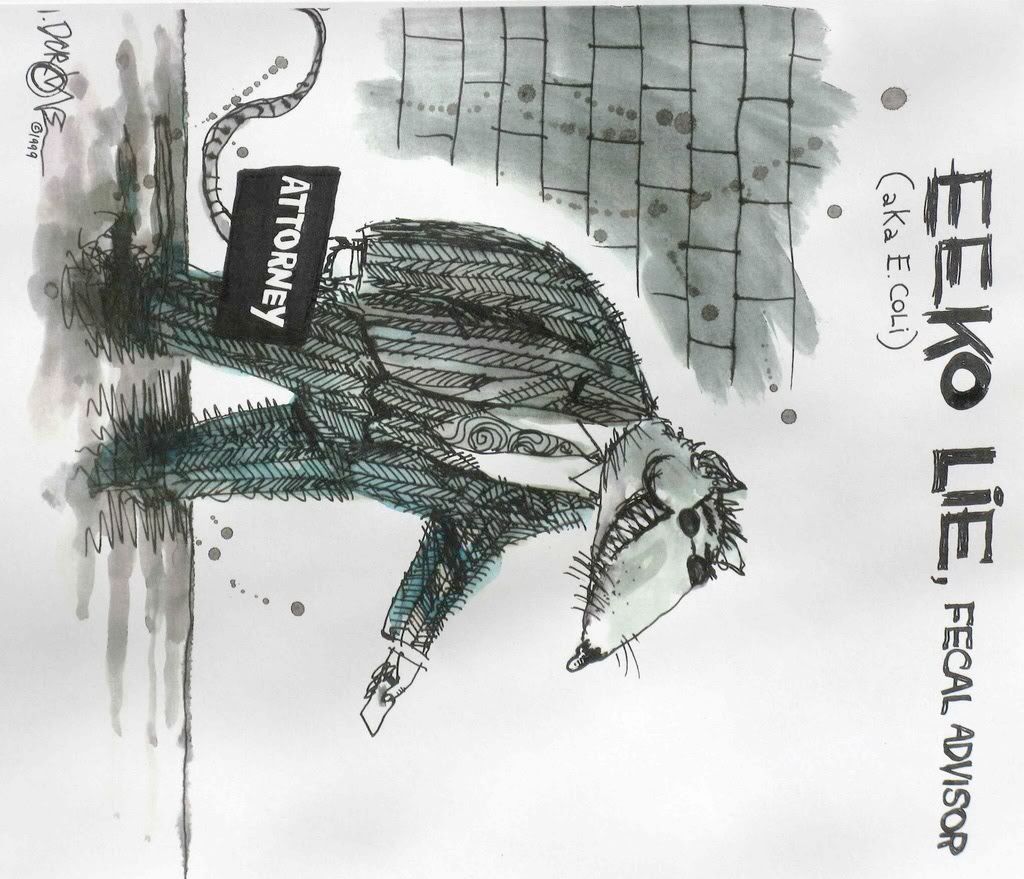 This morning, the
New Zealand Food Safety Authority
advised consumers not to drink milk produced by Happy Valley Dairies on or after October 15th, as the milk may be contaminated with
E. coli
, a normal inhabitant of the large intestine. Most 
E. coli
 are innocuous, but a few serotypes – 
E. coli
 O157:H7 and 
E. coli
 O111, among others – may cause serious gastrointestinal illnesses.
NZDSA has directed the dairy to recall all milk produced on or after October 15th, and is investigating the dairy's other products to determine whether the contamination is more widespread. Consumers who purchased the recalled milk – identified by batch dates of 151008 and later, and use by dates on or after 28 October 2008 – should return it to the place of purchase for a refund.
Happy Vally Dairies
is a small, vertically integrated dairy company, owned and operated by Frans and Jeanine Venekamp. The couple owns and milks their own dairy herd, and processes the milk right next door to the milking shed. In fact, the milking shed and processing areas, while physically separated from each other, are both under the same roof. The Venekamp's received approval from NZFSA for this unusual physical arrangement in May 2007. 
As it is killed easily by pasteurization, the presence of 
E. coli
 in pasteurized milk indicates either contamination of the milk after pasteurization, or a breakdown in pasteurization controls. It's easy to imagine contamination being carried from the milking shed into a processing area that is located in the same structure.
The Venekamp's take great pride in the quality of their dairy products. Five of their butter and yogurt products were short-listed for the prestigious
2008 Massey University Food Awards
. But quality – taste, texture, aroma, etc. – and safety are not synonymous. Safety requires assiduous attention to critical control points (pasteurization time and temperature), equipment maintenance, and proper sanitation.
In the face of
two different recalls in the space of a week
, NZFSA can be expected to review all aspects of the Happy Valley operation very carefully. I would expect that the dairy will be "asked" to shut down temporarily while the review is carried out. NZFSA probably will allow Happy Valley to resume operations under more stringent conditions – perhaps requiring that the milking shed be located in a completely separate structure, for example.
Encouraging boutique food processing operations such as the Happy Valley Dairies is commendable. But a small operation has the same responsibility to produce a safe food item as a large processor. Let's hope the Venekamp's and NZFSA learn the appropriate lessons from this recall.