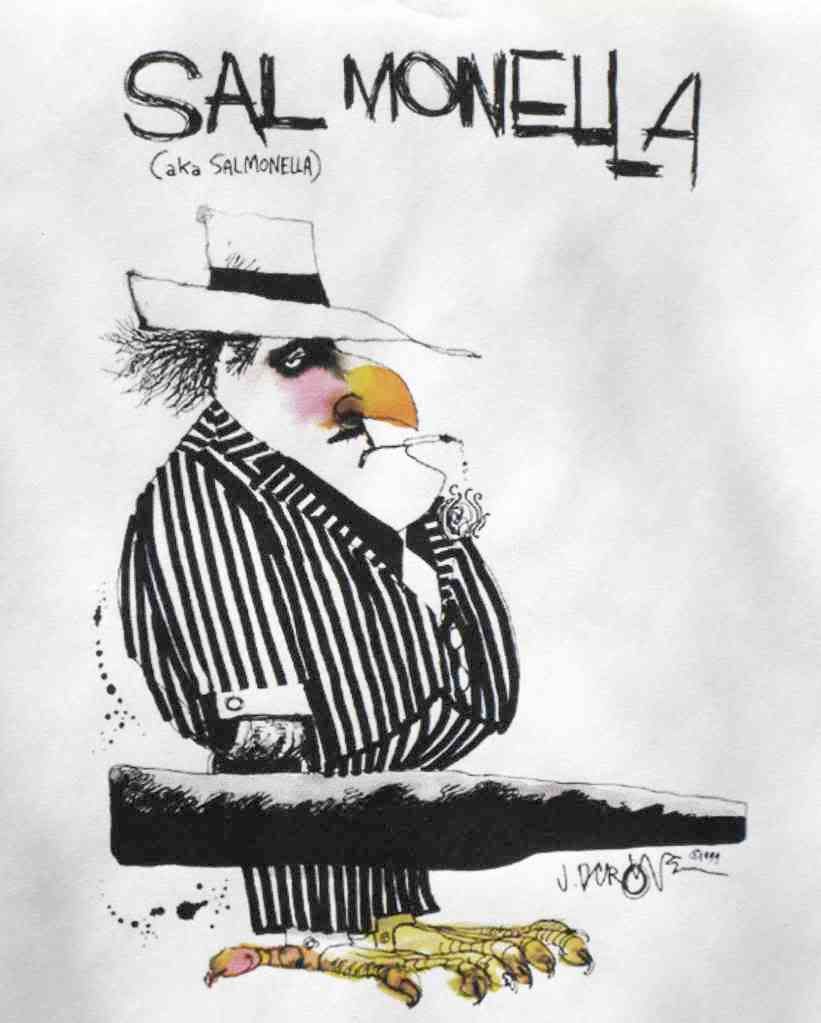 Home-made ice cream claimed another batch of victims this month. More than 70 people who attended the
Relay for Life in Center, Texas
on May 2nd were infected with
Salmonella
after eating home-made ice cream at the fund-raiser.
This was the most recent in a series of sporadic
Salmonella
outbreaks traced to home-made ice cream over the years. Three such outbreaks – in
Fort Monmouth, New Jersey
(1988), in
Florida
(1993), and in
Edmonton, Alberta
(1999) – were all linked to the use of raw shell eggs in the ice cream.
But commercial ice cream isn't immune to contamination. In 1994,
Schwan's ice cream
was the source of a major, multi-state outbreak of
Salmonella
infections. The company purchased pasteurized ice cream premix in bulk, mixed it with flavoring and other ingredients in its own processing facility, and then packaged the finished ice cream.
At the time of the outbreak, Schwan's did not have an in-house pasteurizer. The company relied on its sanitary handling practices to prevent the bulk ice cream premix from becoming contaminated. The sanitary tankers that were used to transport the ice cream premix to Schwan's location were – according to Schwan's contract with the trucker and supplier – supposed to be dedicated to that purpose.
Some of those tankers, however, had been used previously to transport bulk quantities of unpasteurized raw egg. Investigators concluded that one or more batches of the pasteurized ice cream premix had become contaminated by traces of
Salmonella
left behind in the bulk tank of one or more trucks. Schwan's changed its practices as a result of this outbreak, and no longer relies on outside pasteurization to ensure the safety of its ice creams.
Three years ago, another multi-state
Salmonella
outbreak was traced to contaminated ice cream. This time, the culprit was
Cold Stone Creamery
's cake batter-flavored ice cream. A batch of
cake mix
that Cold Stone used to flavor its ice cream was found to be contaminated with
Salmonella
.
Batter-flavored ice creams have gained in popularity in the last few years, in spite of the Cold Stone
Salmonella
outbreak. A Google search quickly turns up recipes for home-made cake batter ice creams, including this
fairly typical recipe
, found on www.recipezaar.com. These recipes use cake mix to flavor the ice cream – the same practice that was the source of the Cold Stone outbreak.
The Google search also uncovered at least three commercial ice cream brands that offer batter-flavored ice creams:
Blue Bell
,
Ben & Jerry's
, and
Cold Stone Creamery
. Both Cold Stone and Ben & Jerry's give consumers some insight into how their ice creams are made, though neither company talks about how it prevents contamination of their products after the pasteurization step.
I sent an email to Ben & Jerry's one week ago to ask for more information. I received the following automated reply:
"Your question has been received. We will do our best to respond to you as quickly as possible. Thanks for your patience!"
I sent a similar message to Cold Stone Creamery, and was pleased to receive a more detailed – and more personal – message from Anne Christenson, Sr. Public Relations Manager of Kahala Corp (Cold Stone's parent company). Ms. Christenson has given me permission to quote her reply to my query in full. It reads,
"Following the voluntary recall in 2005, the original cake batter flavor was reformulated and introduced using a new supplier. More specifically, the ingredients added to this new Cake Batter formulation are manufactured by Continental Mills using a proprietary recipe prepared exclusively for Cold Stone Creamery. Continental Mills develops specialty foods for raw consumption.



Two of the new batter flavors, Blueberry and Chocolate Cake Batter, use the new cake batter formula along with conventional extracts, fruit purees and pasteurized chocolate ice cream base, depending on the flavor. In addition, Cinnamon Bun and Cookie Dough flavors use "ready-to-eat" batter mixes made with ingredients that are rendered "food safe". When introducing these new batter flavors along with all our products, it is our intention to offer the most indulgent, highest quality products that comply with all food safety standards."
Most
Salmonella
infections are mild. Nevertheless, some can have serious consequences. One of the victims of the recent Texas outbreak – a teenager named
Ashlyn Johnson
– was hospitalized with kidney failure as a result of her infection.
Home-made ice cream
can be made safely
. To enjoy the richness and flavor of an ice cream that contains eggs, either use pasteurized shell eggs or else choose a recipe that calls for cooking the eggs into a custard.
For safety's sake, avoid home-made cake mix-flavored ice creams. The cake mixes that you purchase at the store are meant to be baked before being eaten. They are not meant to be eaten raw. If you have a yen for batter-flavored ice cream, play it safe and buy a commercial product.