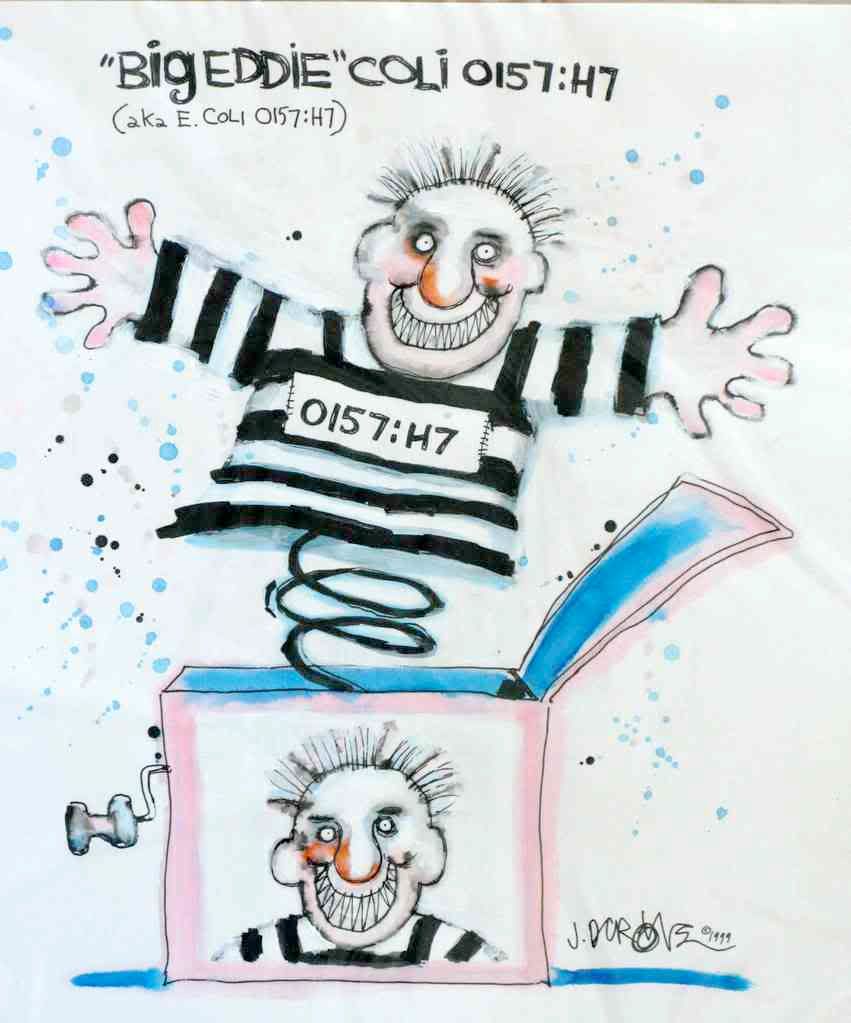 E. coli
O157:H7 "Big Eddie" seems to have developed an interest in higher education this year. Once again, he has paid a visit to a university campus. 
In July
, Big Eddie turned up at the University of Guelph (Ontario, Canada), where he sickened at least 8 people before the outbreak was "declared over" on
August 14th
 by the local public health authorities. At the peak of the outbreak,

health officials

were reporting as many as 20 potential outbreak victims. 
The August 14th statement indicated that the final number of confirmed victims could rise, but no follow-up report has been issued. The Guelph outbreak was blamed – in the absence of other, provable, causes – on an ill food service worker who hadn't washed his hands adequately.
Having graduated from University of Guelph with a B.Sc. in food-borne mayhem, Big Eddie has enrolled at Michigan State University for a graduate degree. 
The Ingham County Health Department
advised MSU
officials on September 15th that 10 students had been diagnosed with infectious diarrhea.
Seven of the students are hospitalized
and three have been confirmed to be carrying the same strain of
E. coli
O157:H7. The students began to experience gastrointestinal symptoms between September 8th and 11th, leading health officials to believe that they were exposed to the pathogen between September 5th and 8th – or possibly earlier.
Health officials are asking any additional students who have experienced gastrointestinal distress during the same time period to come forward. And MSU staff is reviewing student "card swipe" records to identify the on-campus locations where the stricken students ate.
It's ironic that both the University of Guelph and Michigan State University are known for their strong food safety research and education programs. Two such outbreaks can be shrugged off as coincidence. But we'll be watching for "Big Eddie" sightings at places like University of Wisconsin-Madison, Kansas State University, Cornell and UC-Davis.