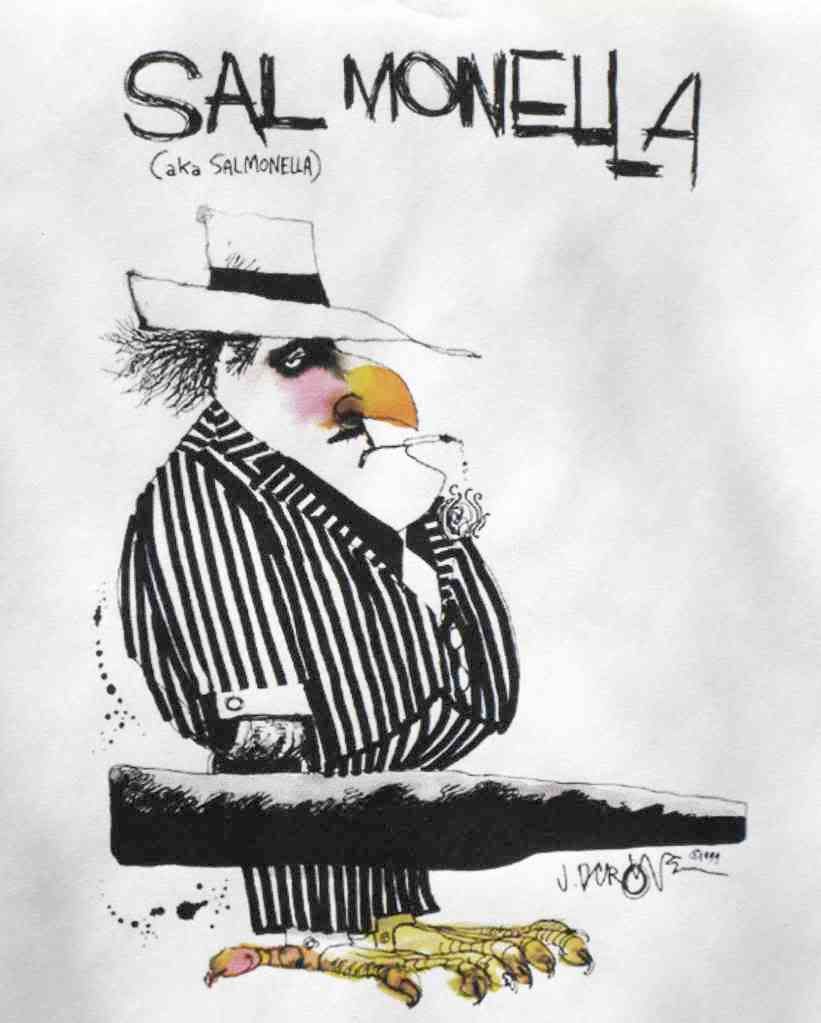 The
CDC
has made it official. The marathon outbreak of
Salmonella
Saintpaul that spread through 43 states, the District of Columbia and even touched Canada is now over. All remaining advisories against consuming raw tomatoes, jalapeño peppers and serrano peppers have been lifted. Salsa lovers can smile again.
The outbreak began with a whimper. The first two (?) victims became ill on April 16th. About one week later, another person began to experience symptoms of gastroenteritis. A few more people were sickened in late April/early May.
The
number of illnesses exploded
in mid-May, peaked early in June, and gradually began to fall off. The last victim of the outbreak fell ill on August 11th. In all, 1442 people became infected with the outbreak strain of
Salmonella
Saintpaul between early April and early August; 286 people were hospitalized, and the pathogen contributed to the death of two victims in Texas.
New Mexico was the first state to spot the outbreak,
notifying CDC
of four cases with a common outbreak strain fingerprint on May 22nd.
On May 23rd
, the New Mexico Department of Health announced that it was investigating 19 apparently related cases of
Salmonella
, reported since May 8th. The victims lived in several different counties, and their ages ranged between 2 and 82 years old.
About one week later
, New Mexico announced that the
Salmonella
outbreak had grown to at least 31 people, and appeared to be linked to the consumption of raw tomatoes.
The
Texas Department of Health
was the next state out of the starting gate. Their news release, dated June 3rd, announced that the state had confirmed 21 cases of salmonellosis due to
Salmonella
Saintpaul. By this time, CDC had already posted its first outbreak summary.
On
June 2nd
, CDC announced that the United States was experiencing a multi-state outbreak of salmonellosis due to
Salmonella
Saintpaul. By then, 70 cases – 40 of them in Texas and New Mexico – had been confirmed in 9 states. Based on epidemiological evidence gathered in New Mexico and Texas, raw tomatoes were suspected to be the source of the pathogen. 
The following day – June 3rd –
FDA
warned consumers in New Mexico and Texas to avoid eating certain types of raw tomatoes: red plum, red Roma, and round red.
Four days later
, the agency expanded its warning to consumers across the entire United States. FDA also began to post its
much-maligned
list of "safe" growing areas from which tomatoes could be eaten with confidence.
It would be more than a month –
July 17th
– before FDA lifted its tomato advisory. By then, the
number of outbreak victims

had ris
en to 1,220 and the focus of the investigation had shifted to raw jalapeño and raw serrano peppers. 
It appeared for a painfully long time that investigators would never find a plausible source for the outbreak. Then fate intervened. The
Colorado Department of Public Health and Environment
announced on July 28th that their state lab had found the outbreak strain of
Salmonella
Saintpaul on a jalapeño pepper obtained from a Colorado outbreak victim. The Mexican-grown jalapeño had been purchased at a local Wal-Mart store.
Two days later
, FDA's David Acheson reported to a Congressional committee hearing that their investigation had uncovered the outbreak strain in irrigation water and serrano peppers from a farm in Nuevo Léon, Mexico.
But what about the tomatoes?
CDC
continues to say that raw tomatoes may have been a vehicle for the outbreak, especially in the early stages. Initial epidemiological investigations support this association, as does the detection of
Salmonella
Saintpaul on two different types of peppers from two different farms. But neither state labs, the CDC or the FDA ever succeeded in finding a tomato that was contaminated with the outbreak strain of
Salmonella
Saintpaul. 
Barring a miracle – or a recurrence of the contamination next growing season – no one ever will.