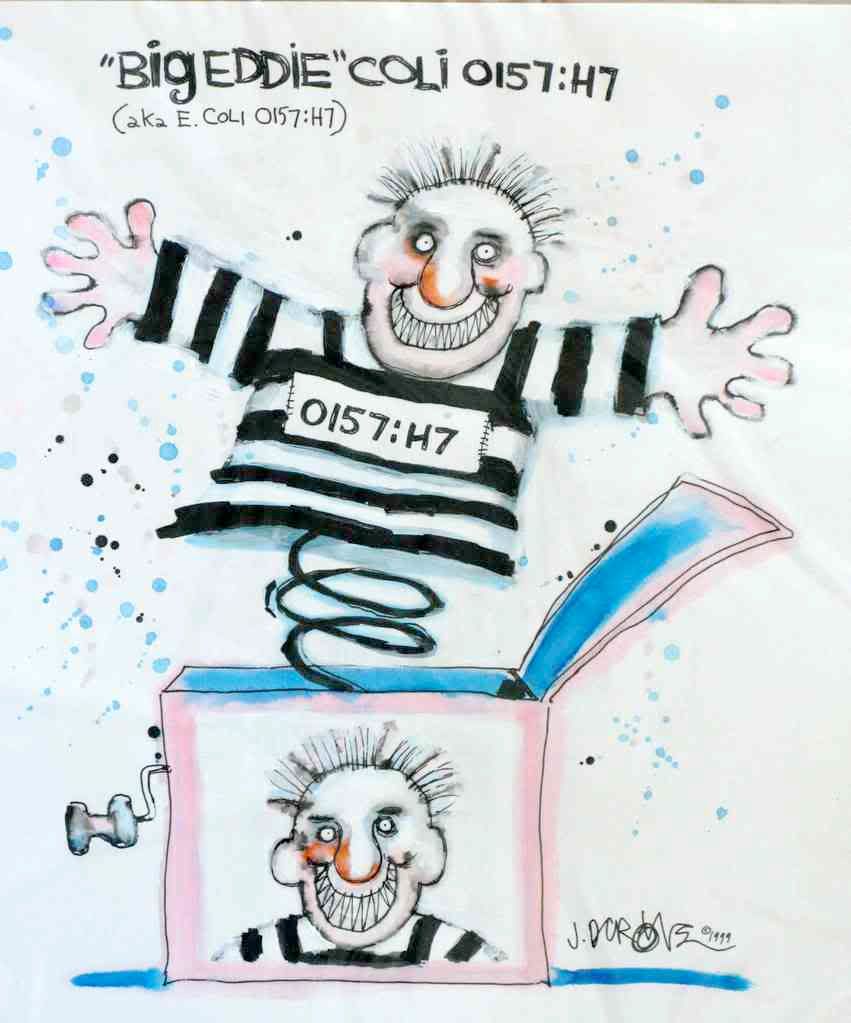 Nebraska Beef, Ltd. has recalled
531,707 pounds of ground beef components – beef and beef trimmings that are used to produce ground beef at specified fat levels. The Omaha company was identified as the source of contaminated ground beef sold by Kroger.
This investigation began as the result of
an outbreak of

E. coli

O157:H7 in Michigan and Northern Ohio
. That outbreak was traced to ground beef purchased in Kroger supermarkets in those two neighboring states.
Kroger recalled
the implicated ground beef on June 25th, after the outbreak strain was isolated from a package of meat that had been purchased by an outbreak victim.
This outbreak might extend well beyond the borders of Michigan and Ohio. According to the USDA/FSIS recall announcement, FSIS detected the outbreak strain of
E. coli
O157:H7 in samples taken from two federally inspected establishments that had purchased meat from Nebraska Beef.
The recall notice does not name those establishments. But a review of recent FSIS news releases might offer some clues. On May 22nd, FSIS alerted consumers to possible
E. coli
O157:H7 contamination of 808 pounds of ground beef produced by
Tyson Fresh Meats, Inc.
of Lexington, NE. And on June 8th,
Dutch Meats, Inc. of Trenton, NJ
recalled more than 13,000 pounds of ground beef due to
E. coli
O157:H7 contamination.
FSIS has not said whether the
E. coli
O157:H7 isolates that triggered these earlier recalls – both of which fall into the same time frame as the Ohio/Michigan outbreak – are related genetically to the outbreak strain. Even if these recalls are linked to the current investigation, there is still much more to come. Together, the Tyson and Dutch Meat recalls represent less than 3% of the more than 530,000 pounds of meat recalled last night by Nebraska Beef.
There has been at least
one unexplained

E. coli

outbreak
recently. Twenty children attending the Wonder World Preschool in Slayton, MN became ill between mid-May and early June. Twelve of the children were confirmed to have been infected with
E. coli
. And there might be other incidents that escaped media attention.
Let's hope that CDC will find the time to review its backlog of
PulseNet
reports on
E. coli
O157:H7 isolates to determine whether any of them are a genetic match to the Ohio/Michigan outbreak strain. I would not be surprised to learn that the outbreak is more extensive than previously reported – and that the distribution pattern of the Nebraska Beef products matches the geography of the outbreak.