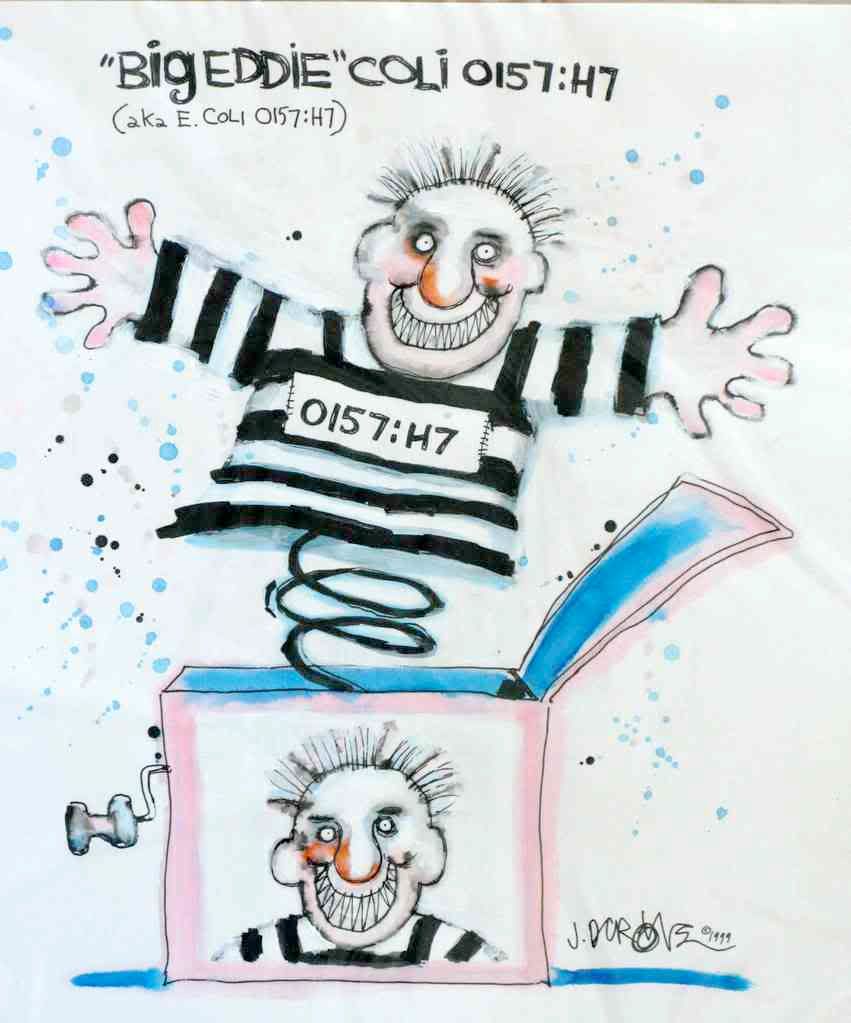 This morning's
New York Times reports
that Kroger has expanded its recall of ground beef products
"...to include ground beef products in Styrofoam tray packages wrapped in clear cellophane or purchased from an in-store service counter from certain stores..."
in Ohio and Michigan.
But the expanded recall goes much farther. According to information available on the
Kroger
web site, the company is now recalling ground beef sold in several of the supermarket chains that are part of the Kroger empire. Here is a complete list of stores, products and expiry dates that are included in the expanded recall:
Fred Meyer May 21-July 5
QFC May 21-July 5
Kroger stores May 21-July 3 *
(*except Kroger stores in Georgia, South Carolina, Alabama, and Knoxville, Tenn. and Kroger's Mid-Atlantic division, which includes stores in North Carolina, Northeastern Tennessee, Virginia and West Virginia. Kroger stores in Georgia, South Carolina, Alabama and Knoxville, Tenn. are not involved in the recall of ground beef in Styrofoam trays or from in-store service counters.)

Kroger Mid-Atlantic May 19-June 6
Fry's May 21-July 3
Ralphs May 21-July 3
Smith's May 21-July 3
Baker's May 17-June 4
King Soopers June 20-July 3
City Market June 20-July 3
Customers who shop at Hilander, Owen's, Pay Less, and Scott's should follow the "sell by" dates listed above for Kroger stores.

In addition to the ground beef described above, Kroger is recalling Private Selection Natural ground beef sold in 16 oz. packages that were in the self-service meat case. The "sell by" dates for this product is July 11 through July 21, 2008. The product was available at all Kroger stores (including Kroger Mid-Atlantic and stores in Georgia, South Carolina, Alabama and Knoxville, Tenn.) and Dillons, Fred Meyer, Baker's, Smith's and Fry's.
This represents all of the recalled Nebraska Beef products that were supplied to Kroger. The following information, which is part of the recall notice, should also be of interest to Kroger customers:
Kroger has expanded the recall due to new information provided by the USDA. This information links product produced by Nebraska Beef to the illnesses. As a precaution, Kroger is removing all ground beef supplied by Nebraska Beef during the dates provided by the USDA.

The following items are not included in this recall: ground beef sold in sealed tubes in one, three or five-pound packages and frozen ground beef patties sold in the frozen food section of its stores.

Kroger has already begun notifying customers about this recall by placing signs in stores in meat departments. Kroger is also using its register receipt notification system that alerts customers about recalls of products they may have purchased.

Kroger has instructed every store involved in the recall to discard the ground beef products in question and thoroughly clean and sanitize all equipment used to prepare ground beef for sale.

Consumers who have questions about the recall may contact Kroger toll-free at (800) 632-6900.
This expanded recall reinforces my
earlier suspicion
that this
E. coli
O157:H7 outbreak may extend well beyond the borders of Ohio and Michigan. Stores in Georgia, South Carolina, Alabama and Knoxville, TN are mentioned specifically in the Kroger recall notice.
Coincidentally, public health investigators in
Southwest Georgia
are investigating an outbreak of
E. coli
O157:H7 in Moultrie (Colquitt County). Two instances of
E. coli
O157:H7 have been lab-confirmed, and an additional 12 cases are pending. At the moment, the investigation is focussing on patients who have either been hospitalized or treated as out-patients. While the source of this outbreak has not yet been established, Georgia is one of the states included in Kroger's expanded recall announcement.
Giant Food Stores, a regional supermarket chain headquartered in Pennsylvania and with stores in Maryland, New Jersey, New York, Ohio, Pennsylvania, Virginia and West Virginia, also has issued
a recall notice
. The chain is advising its customers that "Natures Promise 90% Ground Beef Patties" with a Use/Freeze by date of 7-11-08 "may be contaminated with
E. coli
bacteria." The patties were sold in Giant and Martin's supermarkets.
With the traditional July 4th barbecue festivities approaching, this recall is a reminder to handle raw meat carefully and to grill hamburgers until the meat has reached an internal temperature of 160ºF throughout. Color is not a good indicator of safety.
USDA offers tips
for safe handling and grilling of meats and poultry on its web site.