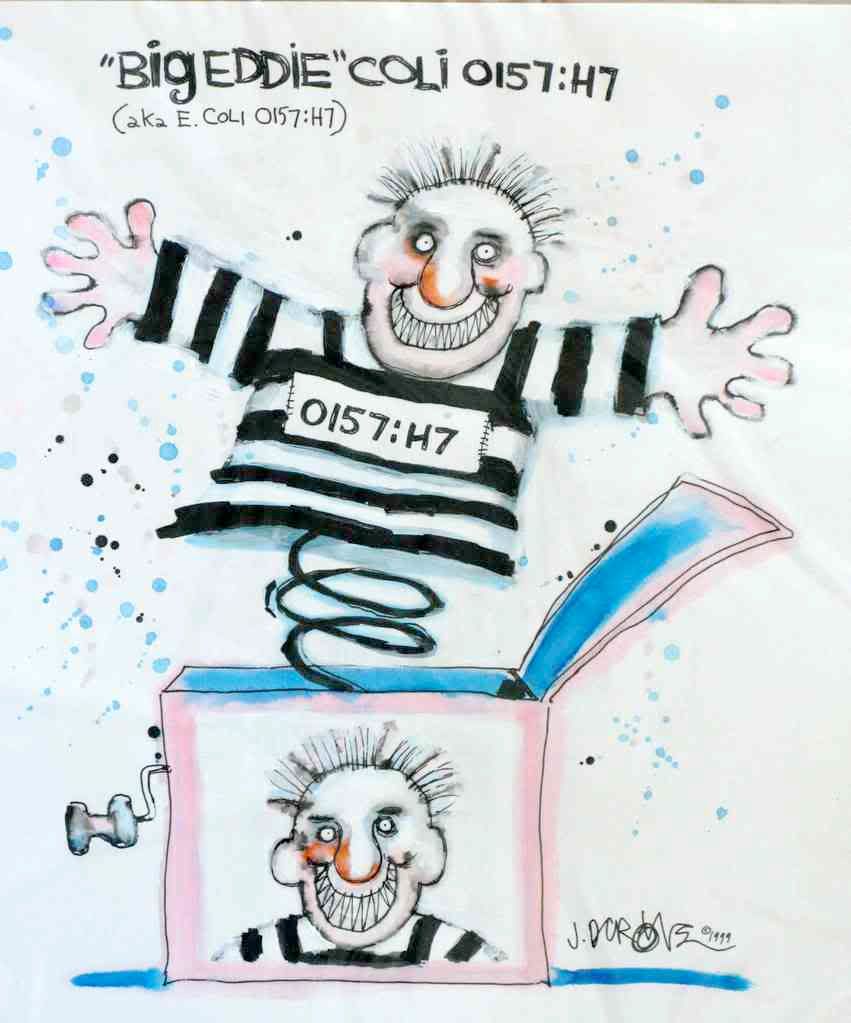 I know that bureaucratic millstones grind slowly, but this is getting ridiculous.
CDC
has – at last – posted an update on what began as the Ohio/Michigan
E. coli
O157:H7 outbreak. CDC is reporting a total of 44 confirmed cases of
E. coli
O157:H7 in five states: Ohio, Michigan, Indiana, Kentucky and New York. Twenty-one of the victims needed hospitalization, including one patient who developed hemolytic uremic syndrome.
All of these cases are linked to beef and beef trimmings that have since been recalled by their producer –
Nebraska Beef
– and by
The Kroger Company
, through which much of the meat was sold as ground beef. According to USDA, none of the meat included in the recall is still available in stores; but consumers are advised to check their refrigerators and freezers and discard any ground that is included in the recall notices.
Someone, though, seems to have mislaid the state of Georgia. According to a communiqué released by the
Southwest Georgia Public Health District 8-2
, a cluster of 8 lab-confirmed and 4 probable
E. coli
O157:H7 cases in the Colquitt County have been linked by molecular fingerprinting to the Nebraska Beef outbreak.
All of the Georgia victims ate at the Barbecue Pit restaurant in Moultrie. USDA has confirmed the presence of the outbreak strain in a sample of ground beef obtained from the Barbecue Pit restaurant. The Barbecue Pit's management has confirmed that it purchased sirloin beef for grinding from a distributor that, in turn, purchased meat from Nebraska Beef.
Colquitt County, GA knows about this cluster – the local media carried regular updates on the story. USDA knows about this cluster – it confirmed the presence of the outbreak strain in the meat sample. Georgia's state laboratory knows about this cluster – it identified and fingerprinted the cultures obtained from the eight confirmed victims. So why doesn't CDC know about this cluster?
For the record, including the Georgia cluster, there are now 52 lab-confirmed cases of
E. coli
O157:H7 in six states: Ohio, Michigan, New York, Indiana, Kentucky and Georgia. Five of the victims –
including four in Georgia
– have developed hemolytic uremic syndrome.
USDA hasn't covered itself with glory either. According to
WALB News
in Albany (GA), the sirloin beef that was supplied to the Barbecue Pit
"...shares the same dates as the beef in the Nebraska Beef recall, but the meat cut itself does not appear to be part of the recall."
If this is so, why has USDA not insisted that Nebraska Beef expand its recall once again?
USDA announced last Friday
that it will finally begin to release the names of retail stores that have received recalled meat and poultry products –
"...generally within three to ten business days..."
of issuing a recall notice. This new policy will take effect next month. Unfortunately, the agency will not release the names of restaurants, food service facilities or distribution centers who have been supplied with recalled meat and poultry items.
USDA's new policy is a small step in the right direction – putting additional information in the hands of consumers. But it will only be useful if the agency also can convince suppliers of contaminated products to recall them promptly.
I'm left wondering whether either USDA or CDC have the institutional mentality and dexterity to respond quickly and effectively to contain outbreaks of food-borne disease.