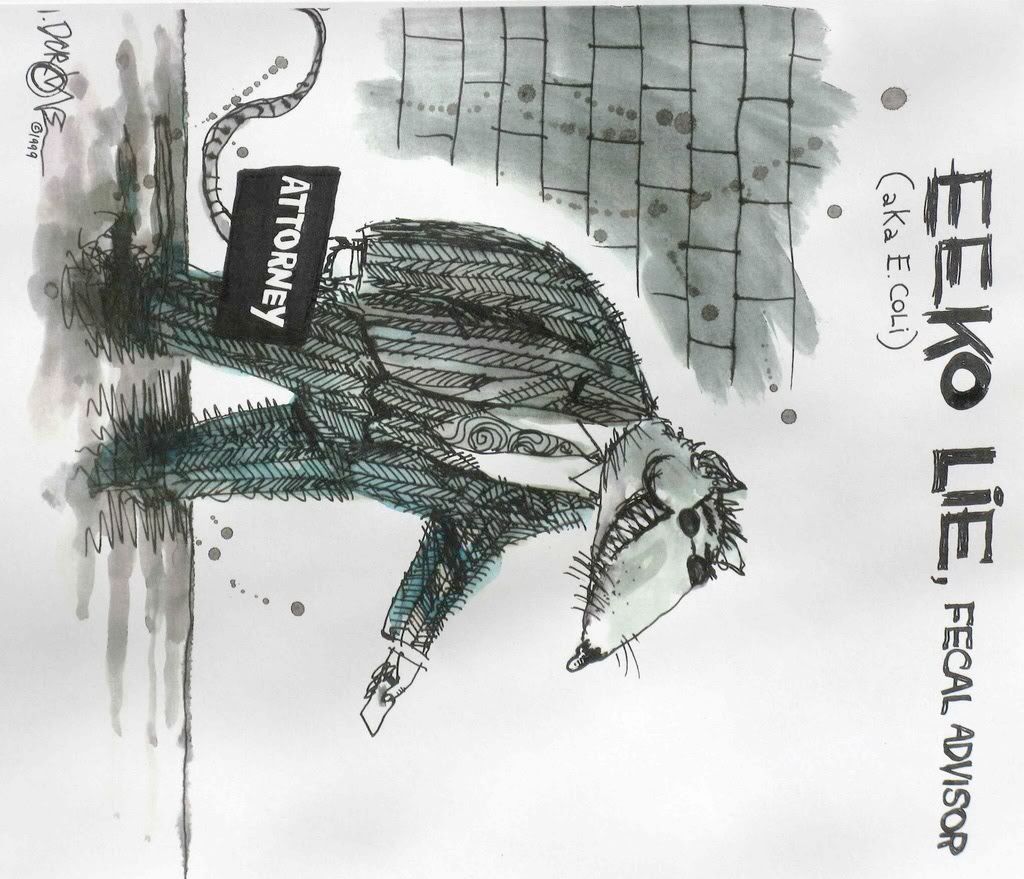 In the 1990's, USDA decided to shift much of the responsibility for regulating the day-to-day food safety activities of the meat industry onto the shoulders of individual meat processors. "Voluntary compliance" became the strategy and HACCP the rallying cry.
In the wake of the USDA's "MegaReg" came the MegaRecall:
Also in the 1990's, the government of Ontario (Canada) decided to trim its budget by shifting the responsibility for monitoring drinking water quality onto the various municipalities. In the name of economy, the Ontario government closed labs and required each town and city in the province to use private labs to test their drinking water. Provincial inspections of drinking water systems were reduced, and "voluntary compliance" ruled.
In 2000, the town of
Walkerton, Ontario
experienced a massive outbreak of
E. coli
O157:H7 as a result of contamination of its drinking water supply. More than 1,300 people became ill. Six of the victims died.
A judicial inquiry
into the outbreak uncovered evidence of negligence, incompetence, falsification of records, and a complete lack of oversight on the part of the Province of Ontario.
Now the Canadian government has decided to take another chance on "voluntary compliance". According to an article written by
John Cotter of The Canadian Press, a confidential deal has been reached between the Canadian Food Inspection Agency and the Canadian meat packing industry to shift much of the burden of inspection onto the shoulders of the individual meat companies.

Under this agreement, government inspectors would "...
check paper work and conduct inspections to ensure that companies are complying with the rules," essentially auditing each plant's internal inspections, much as USDA does under HACCP. And we know how well that has worked. Not surprisingly, a spokesman for the Canadian Cattlemen's Association expressed satisfaction with the arrangement.
The deal between the industry and the CFIA was struck last fall, and has remained under wraps until now. The new arrangement is expected to take effect before the end of this year.
It is outrageous that a policy change of this magnitude was negotiated
in secret
between a regulated industry and its regulator. Neither the Canadian public, nor its representatives in Parliament, have had the opportunity to question this agreement or to comment on a decision that will materially affect the microbiological safety of the country's meat supply.
It's time for the Parliamentary Opposition to raise a ruckus.