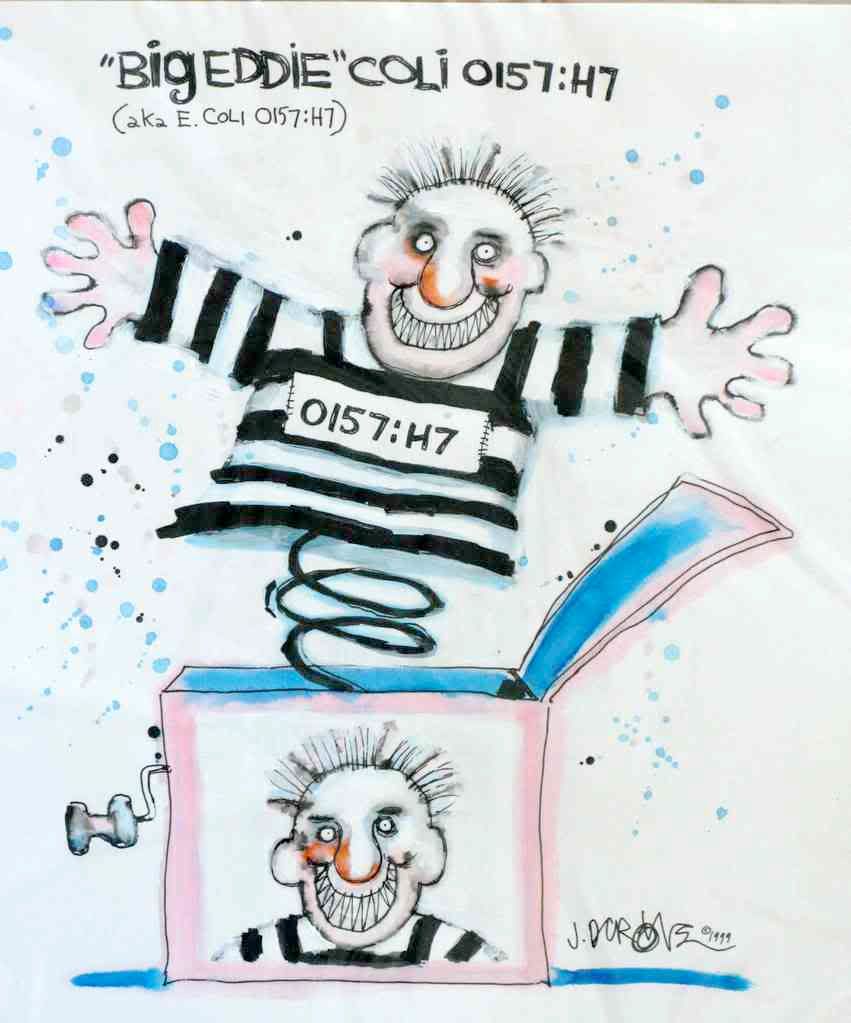 The initial Nebraska Beef recall of 531,707 pounds of beef and trimmings destined for ground beef was just a 10% down payment.
Yesterday evening
, the company expanded its recall to 5.3 million pounds, comprising
"...all beef manufacturing trimmings and other products intended for use in raw ground beef produced between May 16 and June 26."
According to the FSIS recall announcement, the expansion was due to findings by FSIS that
"...the production practices employed by Nebraska Beef, Ltd. are insufficient to effectively control
E. coli
O157:H7 in their beef products that are intended for grinding. The products subject to recall may have been produced under insanitary conditions."
The FSIS news release adds that the recalled meat was used for further processing into ground beef at other establishments. But the agency does not name those establishments, nor has it posted recall notices from companies other than Nebraska Beef and Kroger.
Yesterday evening,
The Kroger Company
expanded its own ground beef recall again (it had already done so on July 1st) to take into account the additional production dates included in the revised Nebraska Beef recall. The July 3rd Kroger recall has been posted on the
FSIS site
, although the agency never notified consumers of the July 1st recall.
Consumers nationwide who purchased ground beef from any store in the Kroger group of companies should read the recall notice carefully. This includes customers of Baker's, City Market, Dillons, Fred Meyer, Fry's, Gerbes, Hilander, King Soopers, Kroger stores, Kroger Mid-Atlantic, Owen's, Pay Less, QFC, Ralphs, Scott's, and Smith's. Meat that is included in this recall notice should be returned to the store for a full refund.
Just two states, other than Ohio and Michigan, have posted information about this recall on their own web sites so far. The
Arizona Department of Health Services
has posted an alert to consumers in that state together with safe food handling guidelines. And the
West Virginia Department of Agriculture
has responded to the Kroger and Nebraska Beef recalls by expanding its sampling of retail ground beef for
E. coli
O157:H7.
CDC has updated
its
E. coli
O157:H7 outbreak investigation web page to include a mention of the most recent recall notices. There are now 41 lab-confirmed cases of
E. coli
O157:H7 in Ohio and Michigan. Twenty-two of the victims have been hospitalized. Fortunately, there have been no deaths linked to this outbreak, although one victim is suffering from hemolytic uremic syndrome.
On this holiday weekend, CDC is reminding consumers to pay attention to safe food handling practices, including the following:
W

ash hands with warm, soapy water for at least 20 seconds before and after handling raw meat and poultry. Wash cutting boards, dishes and utensils with hot, soapy water. Immediately clean spills.

K

eep raw meat, fish and poultry away from other food that will not be cooked. Use separate cutting boards for raw meat, poultry and egg products and cooked foods.

C

onsumers should only eat ground beef or ground beef patties that have been cooked to a safe internal temperature of 160°F.

C

olor is NOT a reliable indicator that ground beef or ground beef patties have been cooked to a temperature high enough to kill harmful bacteria such as E. coli O157:H7.

T

he only way to be sure ground beef is cooked to a high enough temperature to kill harmful bacteria is to use a thermometer to measure the internal temperature.

R

efrigerate raw meat and poultry within two hours after purchase or one hour if temperatures exceed 90°F. Refrigerate cooked meat and poultry within two hours after cooking.

I

f a restaurant serves you an under-cooked hamburger, send it back for more cooking. Ask for a new bun and a clean plate, too.

N

ever put cooked hamburgers or meat on the plate they were on before cooking. Wash the meat thermometer after use.