Local health department not much better
An

eFoodAlert

reader shares her story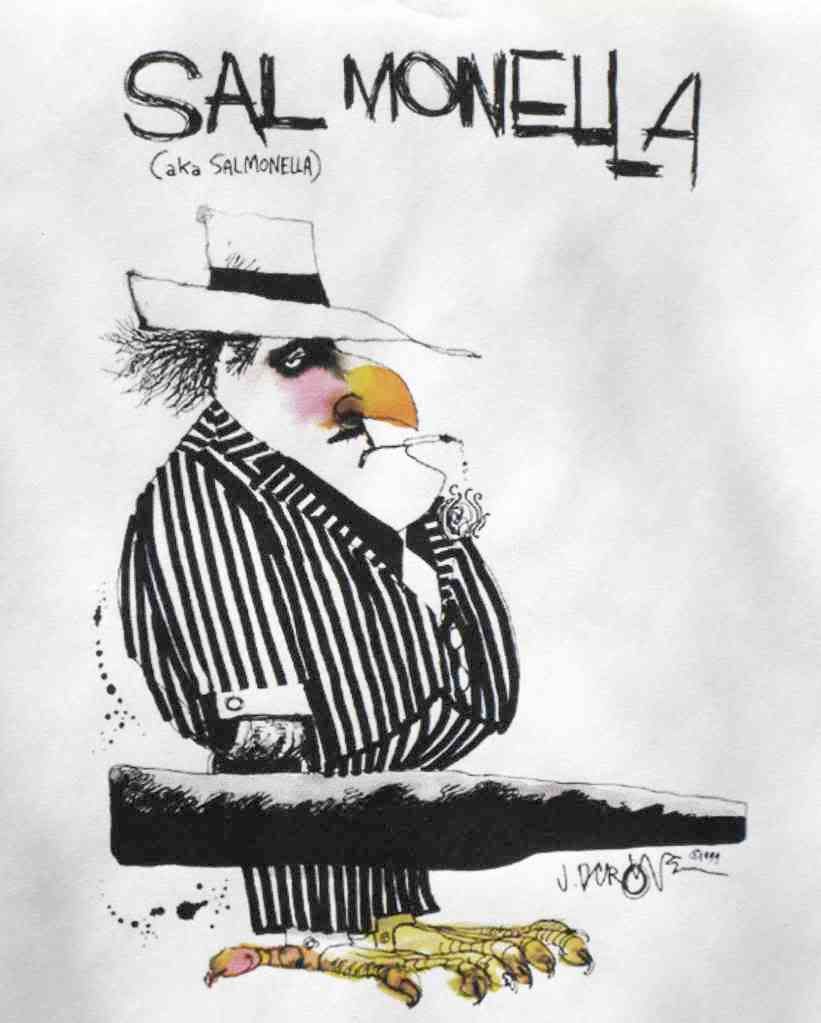 It can be hard for some people to swallow the oft-quoted statistic that only one out of every 38 cases (just 2.6%) of Salmonella food poisoning gets reported. Nevertheless, the vast majority of Salmonella victims suffer in silence or, even worse, are thwarted in their attempts to report suspect food.
Several victims of the current
Salmonella Enteritidis
outbreak have shared their experiences and frustrations with
eFoodAlert
readers. Sandy's story, in particular, illustrates what can happen when a consumer tries to report a problem.
On August 21st, Sandy wrote,
I have eggs that I purchased at Target yesterday that were produced and packed by Sparboe Farms P-1674 223 (this number is not on the list). Husband had 4 for breakfast this morning and now has severe case of diarrhea and stomach cramps. This is the only thing he has eaten and is not feeling well at all. Target said their eggs are not on the recall list. We are not eating the rest of the eggs, he will probably have to get into the doctor. I don't think this recall is over.
Five days later (August 26th), she sent me the following email:
What I find interesting about this egg recall is that the 18 count carton I have is stamped with "Packed by Sparboe Farms P-1173" on the top of the carton, but on the side of the carton it is stamped with P-1674. I was the one who wrote on your blog that my husband got ill from eating 4 eggs from this carton purchased at Target. I did not notice the different numbers until today - I find this very interesting, why two different numbers?

To date, Target still doesn't want to deal with this and hasn't pulled any eggs from their shelves. I don't know if others got sick, or if they just cooked them well and just don't know they were bad.

I still have the eggs if you have anyone that wants to test them. I live in (deleted to maintain privacy). I did not get anywhere with Target - but I did not call their corporate office, maybe I should.

And later that same day, in response to my question,
He [Sandy's husband] did not go to the doctor, so it wasn't confirmed by a doctor. He just got better on his own. I do still have the eggs though and called the health department today.

How is it that the carton I have is labeled from a plant in Iowa & a plant in Minnesota? Did the chicken cross state lines and lay an egg? My carton is labeled #1173 on the top of the carton, yet labeled 1674 on the side of the carton - so, where did these eggs come from?

On August 27th, Sandy thought she was making some progress.
The health department called me today. I am working with them. I also spoke with someone from Sparboe Egg today, they are supposed to get back to me. They want to test the eggs and are supposed to get back to me before I go out of town and have someone locally from the FDA or health department test the eggs. I should have gotten his name, but I will call him back if I don't hear from him in the next hour or so.
But, when I touched base with Sandy a couple of days ago, she had this to report:
I am totally disgusted with Sparboe - they never called me back regarding testing of the eggs. They gave me a song and dance about how they take every complaint very seriously and would make sure they got back to me, but they never returned my call and made sure the eggs were tested. I am disappointed in them.

Thanks for following up with me, but at this point, I really don't think Sparboe intends to do anything about it. The local health department checked the Target to make sure the lot number I purchased was no longer on the shelves. They have been removed, so they were no longer concerned - they have not tested my eggs either.

On August 20th (the day before Sandy's first message), I spoke with Target spokesperson Jenn Glass about the Sparboe Farms connection. She emailed the following statements to me on August 23rd:
Our egg supplier, Sparboe Farms, which uses the NuCal facility (Est. 1951) for some of our Market Pantry egg items, has confirmed that none of the Wright County Eggs brought into that facility were used for the Market Pantry label. All Market Pantry product produced by NuCal for Sparboe Farms involves only "in-line" eggs that directly supply the facility and does not include any outside product from Wright County Eggs that are subject to recall. Information on recalled egg items is provided within the FDA.gov website.

Target does not carry any eggs impacted by the current recall. This includes the Hillandale brands.
Sparboe Farms was slower to respond to my inquiries. On August 20th, I asked Sparboe Farms for their reaction to Walmart's report that some Sparboe Farms eggs had been recalled. Eight days later – and one day after
Sparboe Farms
posted its first "public" recall notice – I received a reply from the Valerie Engler, Sparboe's Communications Specialist.
"Please note," Ms. Engler wrote, "that no eggs shipped to Target that were packed by Sparboe Farms are listed as part of the withdrawal that Sparboe Farms participated in." An interesting statement, given that my original question did not mention Target. She must have been reading my blog posts.
On
September 3rd,
Sparboe Farms "clarified" its August 27th recall notice to include a limited number of eggs that were packed under Target's Market Pantry brand.
The clarification including the statement that, "there have been no reports of confirmed consumer illness relating to Sparboe Farms product." Note the very specific mention of "confirmed consumer illness," which begs the question as to how many anecdotal illness reports Sparboe has received.
Sandy's eggs – the ones that made her husband sick – were not included in the September 3rd recall, and still have not been tested by anyone.
In an ideal world, Target would have worked harder to investigate the possibility that their eggs were making people sick, even in the absence of a recall notice from their supplier.
In an ideal world, Sparboe Farms would have jumped on the chance to test Sandy's eggs in order to prevent the risk of additional illnesses.
But we don't live in an ideal world. Both companies closed their eyes and ears to the illness reports posted on this blog and elsewhere.
Whereas the actions of Target and Sparboe were merely self-serving, the minimal response of Sandy's local health department was unconscionable. Someone from that department should have been on Sandy's doorstep within 24 hours to collect her remaining eggs for lab testing. There is no excuse for the health department to have washed its hands of her complaint once its investigator found that no eggs from that particular batch were still available for sale at Target.
Is it any wonder that the true incidence of food poisoning is grossly under-reported, even in the midst of a widely publicized national outbreak?
If you would like to receive automatic email alerts for all new articles posted on eFoodAlert, please
click here
or submit your request using the sidebar link. Please include "subscribe eFoodAlert" in the subject line.