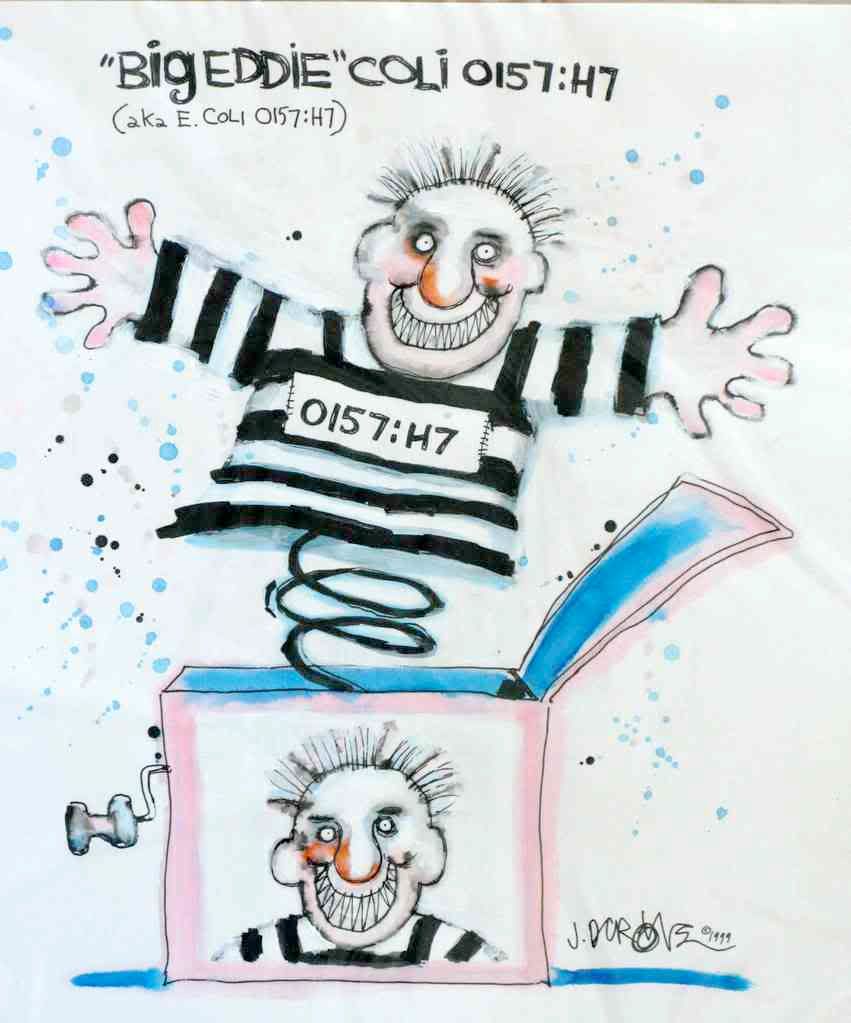 Just like the proverbial (dare I say it?) Jack-in-the-box,
E. coli
O157:H7 has been springing up over and over again this year.
Just about everyone who follows food safety news has heard, by now, of the Nebraska Beef recall triggered by a multi-state outbreak of
E. coli
O157:H7.
According to CDC
, the contaminated meat was responsible for at least 49 illnesses in seven states. The actual toll was probably even higher.
But there was also an outbreak following a reception in
Sarpy County, Nebraska
in March. A recent outbreak in Connecticut was traced to raw milk from
Town Farm Dairy
. Two more
small outbreak clusters
were reported in Nebraska in July. Yet another cluster erupted in the
Dayton, Ohio area
, also in July.
And now
E. coli
O157:H7 has struck at the heart of that international icon of preparedness – the Boy Scouts of America.
On July 31st, the
Virginia Department of Health
reported that 11 attendees at a Boy Scout camp in Goshen, VA had been diagnosed with
E. coli
O157:H7 infections. The victims were at the camp the week of July 20th to July 26th. The number of lab-confirmed cases has since grown to 18, according to a report in the
Washington Post
, and as many as 60 more people have reported symptoms. Two of the campers are undergoing treatment for hemolytic uremic syndrome.
While the source of the pathogen has not yet been identified, suspicion is falling on
"...foil-packaged meals that included ground beef and vegetables..."
This camp staple is typically cooked over a fire by the campers. The camp has removed ground beef from its menu as a precaution.
Virginia health officials can be pardoned for feeling a sense of
déjà vu
.
In 1994
, 18 campers and two counselors at a summer camp in the state were the victims of an outbreak of bloody diarrhea caused by
E. coli
O157:H7. The outbreak was traced to consumption of undercooked, contaminated ground meat.
Other states and countries also have experienced their share of summer camp outbreaks of
E. coli
O157:H7.
2006:

A Palisades, New Jersey day camp, complete with petting zoo and swimming pools, reported an outbreak of

E. coli

O157:H7 that sickened several children – most of them 5-year old girls.

2004:

A Sudbury, Ontario hockey camp suffered an outbreak that sickened 30 campers and staffers – again due to undercooked, contaminated ground beef.

2003:

A New Deer, Scotland boy scout camp experienced an outbreak that was due to environmental contamination. The camp was located at an agricultural fairground and heavy rains spread the pathogen, which sickened 20 campers.
According to the Washington Post article, campers are enjoying their experience in spite of the outbreak –
"...working on merit badges, learning celestial navigation on night hikes, motorboating and shooting rifles."
Perhaps a new merit badge – Principles of Food Safety – should be added to the Boy Scouts' syllabus.