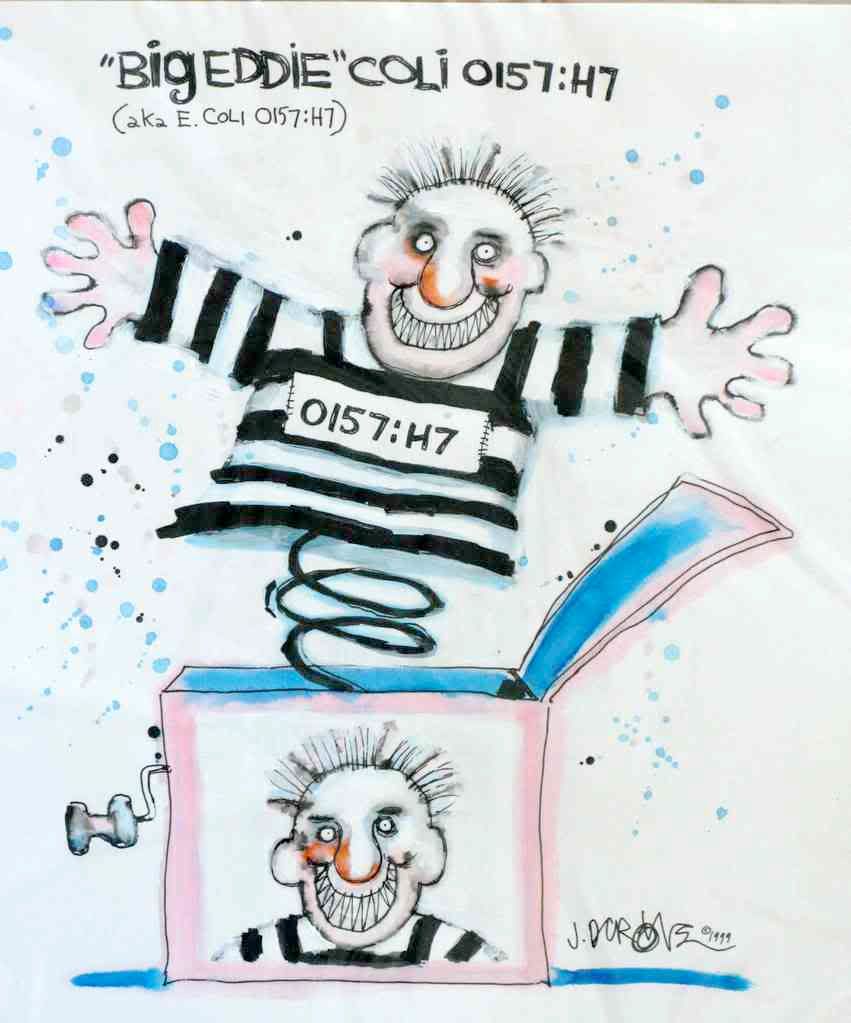 Whole Foods Market
has recalled fresh ground beef sold between June 2 and August 6 due to the risk that the meat may contain
E. coli
O157:H7. The recall affects customers in the following states and in
Canada
:
Connecticut, Rhode Island, Maine, Massachusetts, Florida, New Jersey, New York, Kentucky, Maryland, Ohio, Pennsylvania, Virginia, Washington D. C., Alabama, Georgia, North Carolina, South Carolina, Tennessee, Illinois, Michigan, Minnesota, Missouri, Nebraska, Wisconsin.
The meat was supplied to Whole Foods by Coleman Natural Beef. Readers may recall that some Coleman meat was fingered in an
E. coli
O157:H7 outbreak in the Dayton, OH last month. At that time, Whole Foods was assured by Coleman that none of the meat supplied to the large chain was implicated in the Ohio illnesses.
Whole Foods is asking its customers to discard any unused ground beef purchased from one of their stores during the recall time frame and return the packaging or the receipt to the store for a full refund.
Not coincidentally,
Nebraska Beef
has recalled an additional 1.2 million pounds of primal cuts, sub-primal cuts and boxed beef produced on June 17, June 24 and July 8. The meat, which is labeled with the brand "Coleman Natural" and Est. 19336, was supplied to retail stores and other establishments for further processing.
Both recalls were brought about as the result of an investigation into
an outbreak of

E. coli
O157:H7 in Canada and in several US states, including Massachusetts. This outbreak is unrelated to the recent "Boy Scout Camp" outbreak, which was traced to meat from a California firm.
Nebraska Beef's Est. 19336 is the same facility that was the source of the 5.3 million pounds of beef recalled by that company and by Kroger in early July.
Coleman Natural
was founded in 1875 and markets itself as a producer of natural and organic products. Coleman
sold its beef division
to
Meyer Natural Angus
– also a "natural food" producer – effective June 1, 2008.
Coleman Natural and Meyer Natural Angus both appear to be based in Colorado. Both show on the Colorado Secretary of State's corporations list as "foreign" – meaning, out-of-state – companies. Coleman Natural's state of incorporation is Delaware, a very common corporate "address of convenience". Meyer Natural is incorporated in Nebraska – as is Nebraska Beef. Coincidence?
In the Jewish and Islamic religions, the terms "kosher" and "halal" have very specific meanings. Even a modicum of contamination – for that matter, even the potential of a modicum of contamination – of "unclean" food is enough to render otherwise acceptable food "treif" to observant Jews or unclean to Muslims.
It would appear that the same standard does not apply to "organic" or "all-natural" ground beef. How can meat retain its claim to being "organic" or "all-natural" if it is processed in a facility that also processes meat from conventionally-raised animals? The only way to ensure the validity of the claim would be to segregate the "special" meat from the "conventional" meat – perhaps in a completely separate grinding room.
But the "Coleman Natural" meat clearly was not segregated. The evidence is in the contamination both of Nebraska Beef's "conventional" meat and of this "natural" meat with
the same strain of E. coli O157:H7
.
Whole Foods had the following to say in its announcement of the meat recall:
"Whole Foods Market is informed that the beef in question apparently came from Coleman Natural Beef whose Nebraska Beef processing plant was previously subject to a nationwide recall for E. coli 0157:H7 contamination. At the time of the previous recall, Whole Foods Market received assurances from Coleman Natural Beef that no product delivered to Whole Foods Market was linked to the recall. Those assurances are now in question and Whole Foods Market is actively investigating the issue. At this time, no Coleman Natural Beef fresh ground beef products from the Nebraska Beef processing facility are available in

any

Whole Foods Market stores.

While Coleman Natural Beef is a relatively small supplier for Whole Foods Market, we are extremely disappointed that we must now question Coleman's assurances."

And we are extremely disappointed – but not surprised – that we must continue to list USDA "
Missing In Action
."