CDC reports two multistate outbreaks; declines to name implicated chain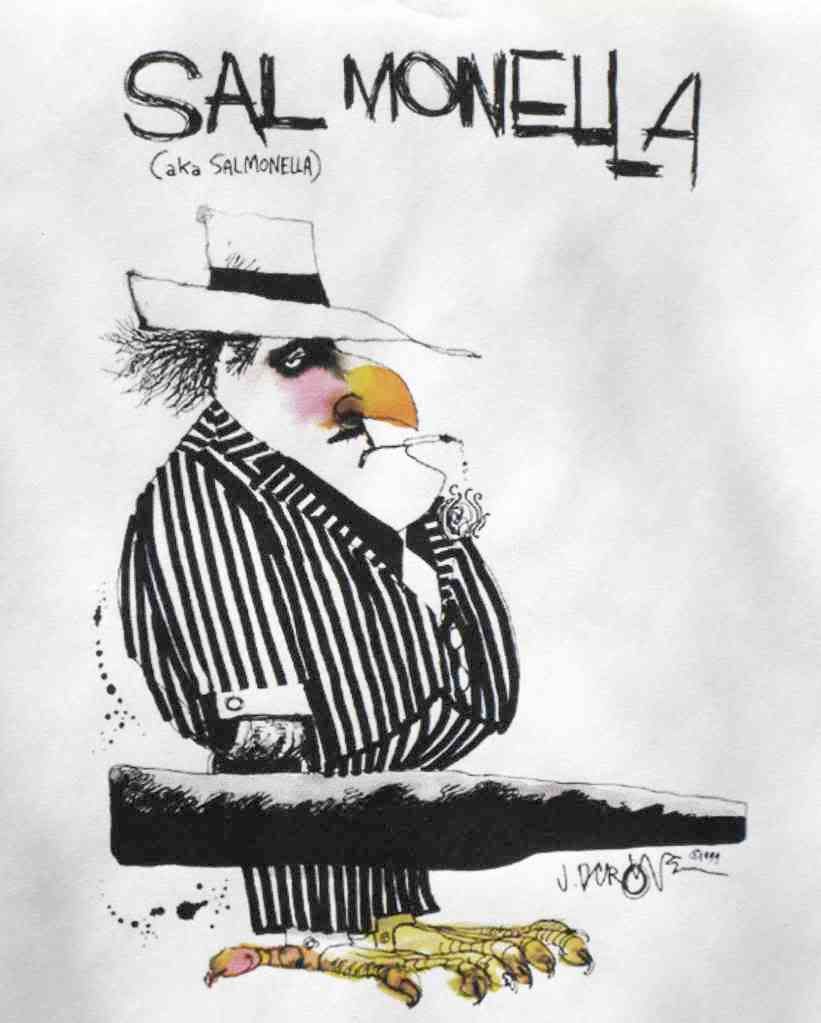 155 confirmed infections
42 people hospitalized
21 states report confirmed cases
2 Salmonella serotypes
1 unnamed Mexican-style fast food restaurant chain
CDC
announced last night that it is investigating – with the assistance of the usual assortment of other local, state and federal agencies – two outbreaks of
Salmonella
gastroenteritis, both of which appear to be linked to the same Mexican-style fast food chain. The restaurant chain is identified simply as
Restaurant Chain A
in the investigation report.
Since April 1st, 15 states have reported a total of 75 confirmed cases of Salmonella Hartford infections. At least 15 people have been hospitalized. Approximately 60% of the ill people who were interviewed reported having eaten at a location of Restaurant Chain A. No specific food item was associated with any increased probability of illness. Cases of Salmonella Hartford have been confirmed in Colorado (1), Georgia (1), Illinois (5), Indiana (11), Kentucky (23), Massachusetts (2), Michigan (3), Montana (1), North Carolina (1), New Hampshire (1), New York (1), Ohio (19), Pennsylvania (1), South Carolina (1), and Wisconsin (4).
Also, since May 1st, 15 states have reported 80 confirmed cases of Salmonella Baildon infections. At least 27 have been hospitalized. Sixty-five percent (65%) of the victims who were interviewed also ate at a location of Restaurant Chain A, but no specific food or ingredient could be associated with the illnesses. Cases of Salmonella Baildon have been confirmed in Connecticut (1), Georgia (1), Iowa (1), Illinois (20), Indiana (4), Kentucky (5), Massachusetts (1), Michigan (4), Minnesota (5), New Jersey (6), New York (2), Ohio (6), Oregon (1), Washington (1) and Wisconsin (22).
While Salmonella Hartford and Salmonella Baildon are considered to be rare serotypes in the United States, both have been associated with multistate outbreaks in the past.
In 1995, sixty-two people from 21 states were infected with
Salmonella Hartford
– and seven were hospitalized – after visiting an Orlando, Florida theme park. The outbreak was traced to unpasteurized orange juice that was served at the park.
In 1998/1999, raw tomatoes contaminated with
Salmonella Baildon
were behind an outbreak of salmonellosis that sickened 86 people in 8 states. Sixteen people were hospitalized. This outbreak, too, was associated with restaurant meals.
As far as this year's double-dip outbreak is concerned, the number of reported cases of both Salmonella Hartford and Salmonella Baildon appears to have peaked in June. The pattern of the case reports and the inability of epidemiological questioning to identify an associated food item points to the contamination of a perishable ingredient that is used in a number of different food items – most likely a produce item. Shredded lettuce, raw tomatoes, salsa, guacamole, peppers all have been associated with Salmonella outbreaks in the recent past.
While the number of reported cases is on the wane, the outbreak is not yet over. Until CDC or some other government agency chooses to release the name of the implicated restaurant chain – or until that chain comes forward voluntarily – consumers would be wise to be very cautious about eating at outlets belonging to large regional or national Mexican-style fast food restaurant chains.
I would encourage anyone with additional information on this outbreak to contact me by email or to post a comment so that the information can be shared with other readers.
If you would like to receive automatic email alerts for all new articles posted on eFoodAlert, please click here or submit your request using the sidebar link. Please include "subscribe eFoodAlert" in the subject line.