Evidence points to Romaine lettuce from unnamed Yuma, AZ farm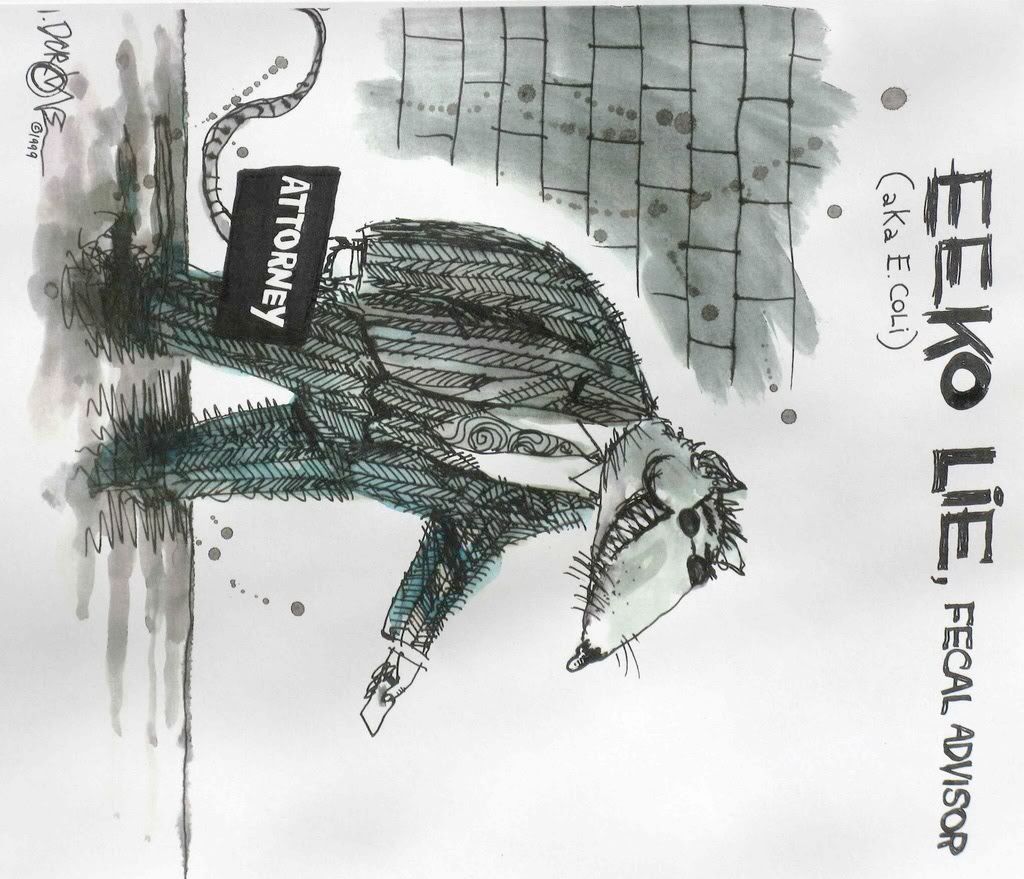 FDA
confirmed late yesterday that the strain of
E. coli
O145 found in an unopened bag of shredded romaine lettuce distributed by
Freshway Foods
is a genetic match for the outbreak strain that has infected at least 19 – and as many as 29 – people in Ohio, Michigan and New York states.
As of
CDC's
most recent report (May 6th), 12 of the 29 confirmed and suspected victims have been hospitalized – three of them with hemolytic uremic syndrome (HUS), a life-threatening syndrome that also is an occasional complication of
E. coli
O157:H7 infections.
On
April 19th, Washtenaw County, Michigan
reported that it was investigating an outbreak of foodborne illness "...probably caused by
E. coli
." Washtenaw County is the home of Ann Arbor and of the University of Michigan.
Columbus, Ohio
public health officials informed the media on April 28th that five cases of "non-O157
E. coli
" in that city were linked genetically to the Ann Arbor cases. And that same day,
Erie County, New York
reported two cases of
E. coli
O145 that were "...possibly associated with a multi-state
E. coli
outbreak."
CDC dispatched a team to Columbus on May 2nd to assist in the outbreak investigation. They quickly identified romaine lettuce as the probable source of the contamination.
Freshway Foods
was informed on May 5th that the New York state lab found
E. coli
O145 in a previously unopened bag of shredded romaine lettuce. Freshway traced the entire affected lot of romaine and advised its customers to cease use and distribution immediately. The following day,
Freshway
announced a recall of all products containing romaine lettuce with a use-by date of May 12 or earlier.
FDA has inspected Freshway Foods' Sidney, Ohio facility and has found no evidence that the contamination originated at the distributor's warehouse.
The recalled lettuce, which was sold under the Freshway and Imperial Sysco brands, was distributed to wholesalers and food service outlets in Alabama, Connecticut, District of Columbia, Florida, Georgia, Illinois, Indiana, Kansas, Kentucky, Maryland, Massachusetts, Michigan, Missouri, New Jersey, New York, North Carolina, Ohio, Pennsylvania, Rhode Island, South Carolina, Tennessee, Virginia, West Virginia, and Wisconsin. In addition, the recalled products were sold for distribution to in-store salad bars and delis for Kroger, Giant Eagle,
Ingles Markets
, and
Marsh
stores in these states.
The implicated bagged, shredded lettuce was harvested from a farm in Yuma, Arizona. Lettuce from that same farm was supplied to Vaughan Foods of Moore, Oklahoma – a supplier of processed and packaged lettuce to restaurants and food service facilities. As a precaution, Vaughan has recalled romaine lettuce with "use‐by" dates of May 9 and May 10, but has not indicated – at least not to the public – where the lettuce was shipped.
Andrew Smith Co. (ASC), a Spreckels, California produce distributor, also received lettuce from the same farm. After being contacted by FDA, ASC conducted its own E. coli testing and found an unrelated E. coli strain in a sample of lettuce from Yuma. ASC recalled 1,000 cartons of lettuce on May 7th. The recalled lettuce had been shipped to two food service processors, neither of which was identified by ASC. No information has been released about the ultimate destination of the 1,000 cartons of lettuce.
Neither the Vaughan Foods recall nor the Andrew Smith recall has been posted on the FDA recall web page. As a result, except for the Freshway Foods recall notice, consumers are in the dark on where the recalled lettuce was distributed. This is important food safety information for patrons of restaurants and food service facilities. At the very least, a list of potentially affected states would be helpful.
CDC is expecting to update its outbreak investigation web page soon – possibly as early as tomorrow, I am told. The update will include more current data on the scope of the outbreak.
If you would like to receive automatic email alerts for all new articles posted on eFoodAlert, please
click here
or submit your request using the sidebar link. Please include "subscribe eFoodAlert" in the subject line.