E. coli O157:H7 recovered from several packages of cheese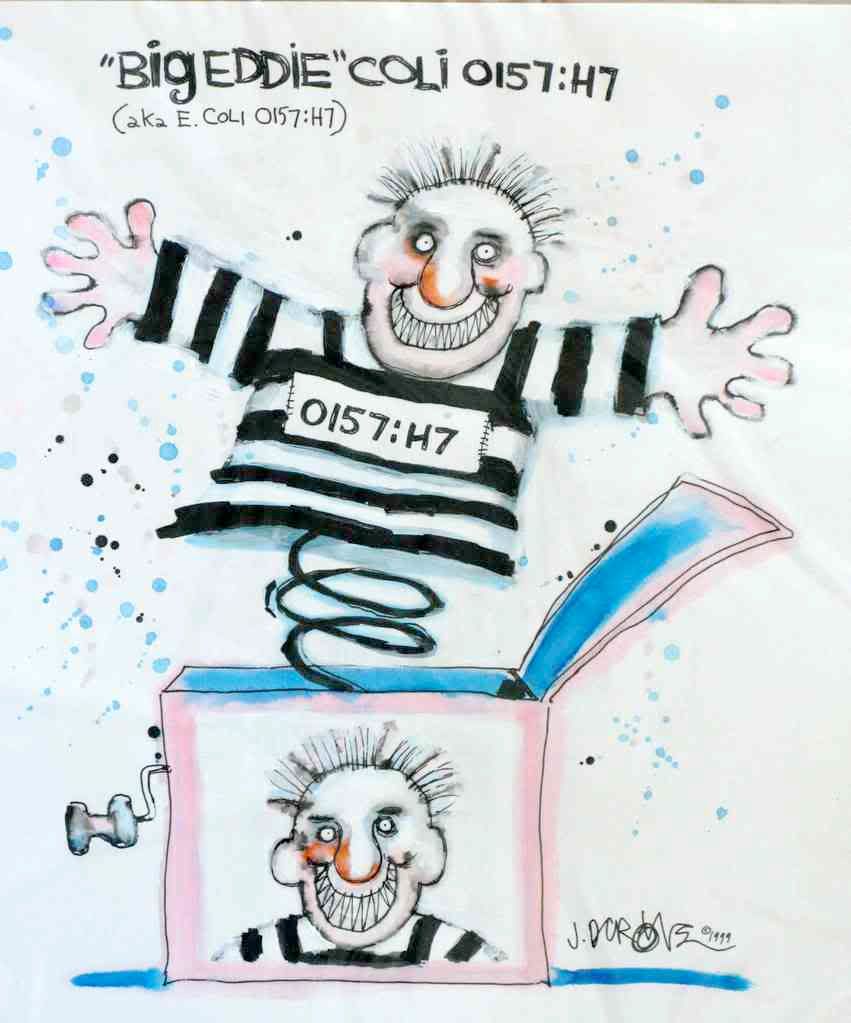 Arizona, California and Colorado have confirmed additional cases of
E. coli
O157:H7 that are associated with the consumption of
Bravo Farms Dutch Style Gouda cheese
, according to an investigation update released late this afternoon by
CDC
.
As of November 10th, 33 cases of E. coli O157:H7 infections have been reported from the following states: Arizona (15), California (3), Colorado (10), New Mexico (3), and Nevada (2). Dates of illness onset range from October 16, 2010 through October 24, 2010. Patients range in age from 1 to 81 years and the median age is 14 years. There have been 15 reported hospitalizations, 1 case of hemolytic uremic syndrome (HUS), and no deaths.
Lawsuits
have now been filed against Bravo Farms on behalf of two of the Arizona outbreak patients.
Lab testing has confirmed the presence of the outbreak strain of E. coli O157:H7 (PulseNet profile #EXHX01.2292/EXHA26.0621) in two opened packages of Bravo Farms Dutch Style Gouda Cheese purchased at Costco. The packages were obtained from two different outbreak patients. In addition, E. coli O157:H7 has been recovered from an
intact package
of the same cheese obtained from a Costco store. Two additional opened packages – obtained from two other patient's homes – also have yielded E. coli O157:H7 in the lab. Additional lab testing is in progress to confirm these results and determine the genetic profiles of the isolates.
Bravo Farms has recalled all of its
Dutch Style Gouda Cheese identified by the Julian date code 0233 or lower
. The cheese was packed in 1.5-pound and 8-ounce pieces and distributed primarily through Costco Warehouse stores in Arizona, Southern California, Colorado, Utah, Nevada and New Mexico. Some of the cheese also was sold in other retail stores in California.
FDA and the appropriate state agencies are working together to investigate the Bravo Farms operation and to identify the possible sources of the contamination. As part of the investigation, FDA has collected additional product samples for lab analysis.
CDC warns that illnesses which developed after October 22, 2010 might not yet be reported, as it typically takes two to three weeks to confirm and report an illness. It's quite possible, therefore, that some additional illnesses will be reported, especially as the implicated cheese was available for sampling and sale until November 1st.
CDC offers the following
Advice to Consumers
who may have sampled or purchased the implicated cheese:
"Based on current information, there is a link with the consumption of one of several cheeses offered for sampling and sale at the "cheese road show" that was held at Costco Warehouses between October 5 and November 1 in Arizona, California, Colorado, New Mexico and Nevada. This cheese is Bravo Farms Dutch Style Gouda Cheese (Costco Item 40654), manufactured by Bravo Farms of Traver CA.




Consumers who have any of this cheese should not eat it. Instead, they should return the cheese to the place of purchase or dispose of it in a closed plastic bag placed in a sealed trash can. This will prevent people or animals, including wild animals, from eating it."
I urge anyone who consumed Bravo Farms Dutch Style Gouda Cheese during the October 5 through November 1 time period, and who subsequently experienced symptoms of E. coli O157:H7 infection, to seek medical advice and also contact his or her local or state health agency. CDC describes the symptoms of E. coli O157:H7 infections as follows:
"Most people infected with E. coli O157:H7 develop diarrhea (often bloody) and abdominal cramps 2-8 days (3-4 days, on average) after swallowing the organism, but some illnesses last longer and are more severe. Infection is usually diagnosed by stool sample culture. While most people recover within a week, some develop a severe infection. A type of kidney failure called hemolytic uremic syndrome (HUS) can begin as the diarrhea is improving; this can occur among persons of any age but is most common in children under 5 years old and the elderly. Signs and symptoms of hemolytic uremic syndrome may include: fever, abdominal pain, pale skin tone, fatigue and irritability, small, unexplained bruises or bleeding from the nose and mouth, decreased urination and swelling of the face, hands, feet, or entire body. Persons who experience these symptoms and believe they are at risk for HUS should seek emergency medical care immediately."
If you would like to receive automatic email alerts for all new articles posted on eFoodAlert, please
click here
or submit your request using the sidebar link. Please include "subscribe eFoodAlert" in the subject line.