CDC Releases Information on E. coli O157:H7 Outbreak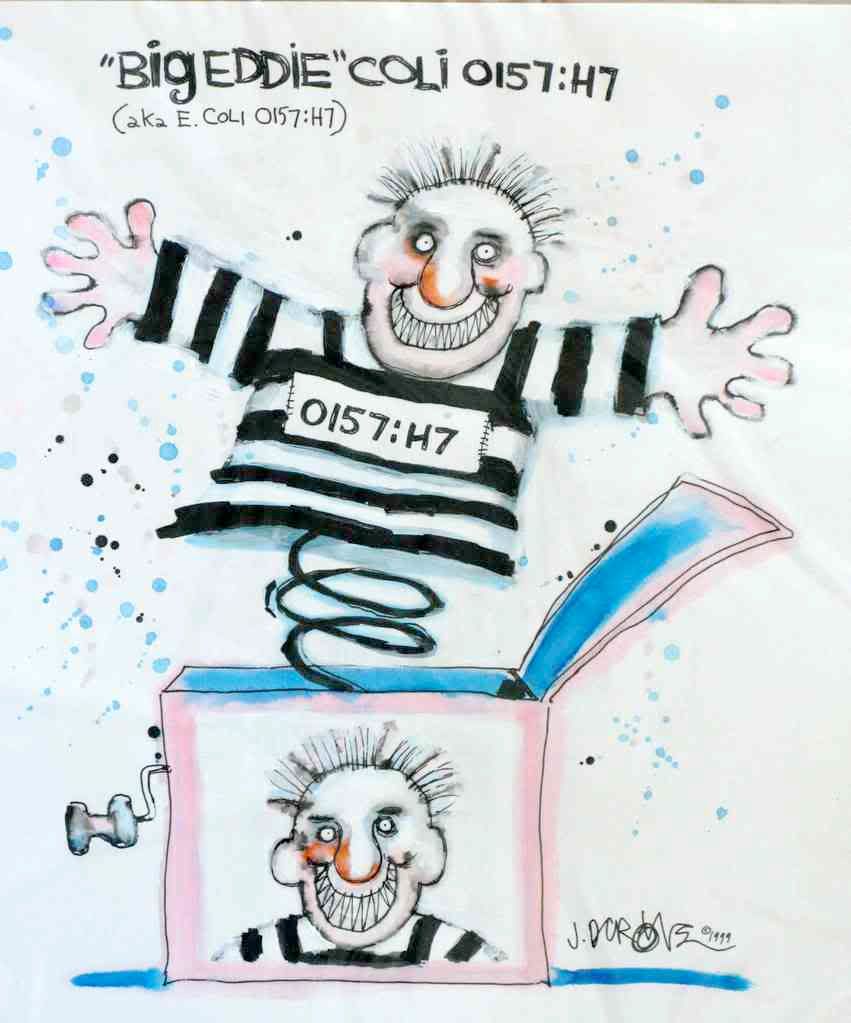 Late this afternoon, I received the following communication from CDC:
"As of 5:00 PM EDT, Monday, January 4, 2010, 21 persons infected with the outbreak strain of E. coli O157:H7 had been reported from 16 states. The number of ill persons who were identified resides in each state as follows: CA (1), CO (1), FL (1), HI (1), IA (1), IN (1), KS (1), MI (1), MN (3), NV (1), OH (2), OK (1), SD (2), TN (1), UT (2), and WA (1).




Known illness onset dates range from October 3, 2009 through December 14, 2009. Most patients became ill between mid-October and late November. Patients range in age from 14 to 87 years and the median age of patients is 34 years, which means half are younger than 34 years. Forty-three percent of patients are females. There have been 9 reported hospitalizations, 1 case of hemolytic uremic syndrome (HUS), and no deaths."
On Christmas Eve – nearly two weeks ago –
National Steak & Poultry
(Owasso, OK) recalled 248,000 pounds of beef after some of the company's meat was implicated in an outbreak of
E. coli
O157:H7. Most of the meat was sold to restaurants, but some of the recalled products were sold directly
to employees, as well as to consumers
through the Company's Dock Sale program.
The December 24th recall notice indicated that an unspecified number of individuals from six states had been infected with the outbreak strain of E. coli O157:H7. Colorado, Iowa, Kansas, Washington, Michigan and South Dakota were named.
USDA, which usually undertakes to publish a list of retail consignees of recalled meat, does not consider restaurants as "retailers" and is not naming the restaurant chains that were supplied by National Steak & Poultry.
On January 5th, I sent the following list of questions to health officials in all 50 states:
Have any illnesses associated with this outbreak been reported in your state?
If illnesses have been reported, how many have been confirmed; how many additional suspect illnesses have yet to be confirmed?
Has anyone in your state been hospitalized in conjunction with this outbreak?
Have any outbreak cases been traced definitively to a specific restaurant chain - or chains? If so, can you tell me which one(s)?
Can you share information on the ages of any outbreak victims?
Have any samples of meat from National Steak & Poultry tested positive for the outbreak strain? If so, can you provide any details?

Here are their replies (where practical, quoted verbatim):
"We do not have any additional information to report."
Alaska
"Alaska has not had any foodborne illness cases associated with this recall."
Idaho
"To our knowledge, there have been no Idaho cases associated with this outbreak."
Kansas has confirmed one outbreak victim, from the Northwest part of the state. The individual was hospitalized. The victim ate at a restaurant (unnamed) that was supplied beef by National Steak & Poultry.
"No cases associated with the recall you referred to have been reported in Kentucky."
"Maine is not involved in this outbreak at this time."
"Michigan has 1 confirmed case. Our case was also hospitalized."
Minnesota
"We do have 3 cases that match the national cluster (match cases in other states) by PFGE. However, we NOT identified and links to the NSP recall for any of the cases. In addition, we do NOT have cases associated with any particular restaurant chain, or any specific restaurant, and we do NOT have cases that reported eating steaks (needle/blade tenderized or any other steak). We are still investigating our cases, and how/if they have common exposure to cases in other states."

"To date, there are no cases identified in West Virginia that have been associated to the outbreak investigation that initiated the National Steak & Poultry recall."

"Washington has had only one suspected or confirmed illness associated with this outbreak, a King County woman in her 60s who was not hospitalized and who has recovered. However—and this is a big however—she was exposed not in Washington, but while traveling in Nebraska. It doesn't appear that any meat from the recalled lots was ever available to consumers in Washington."
Note that the Washington victim was exposed in Nebraska – not in Washington. The CDC information does not mention any Nebraska cases. And no one has yet identified the restaurant chain(s) involved in this outbreak.
I'll be adding to this roll call of states as I receive additional information, and will add a link to the CDC web site as soon as the agency has posted its information. Please check back periodically.