Is Minnesota really part of the National Steak & Poultry Outbreak?
(Updated January 12, 2010)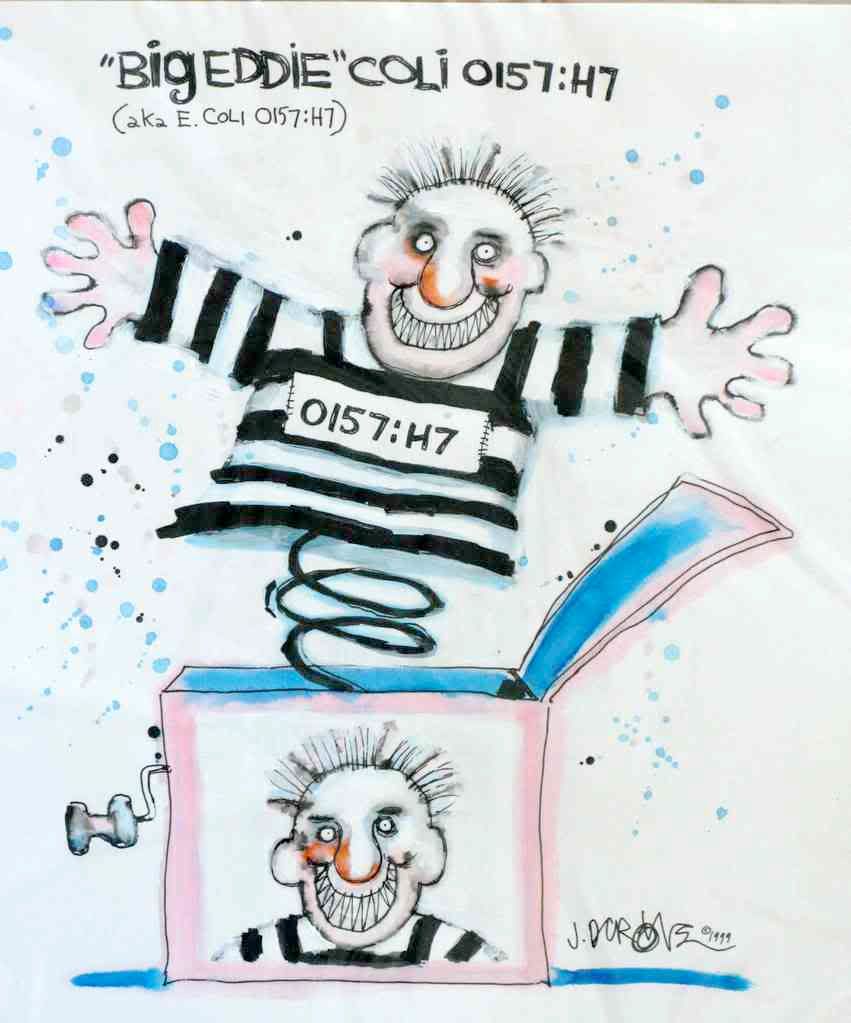 CDC
made it official on January 6th. Beef supplied by
National Steak & Poultry
to restaurants across the United States is linked to an outbreak of
E. coli
O157:H7 that has sickened 21 people in 16 states. Nine of the outbreak victims were hospitalized, including one who developed hemolytic uremic syndrome (HUS).
The CDC report lists the number of cases in each of the affected states, but provides little in the way of detail. For example, the victim from Washington state actually contracted the infection in Nebraska. And, according to information that I have been given by the Minnesota Department of Health, the three cases attributed to that state are, in the words of the King of Siam, "A Puzzlement."
Minnesota reports the following:
"We do have 3 cases that match the national cluster (match cases in other states) by PFGE. However, we have NOT identified any links to the NSP recall for any of the cases. In addition, we do NOT have cases associated with any particular restaurant chain, or any specific restaurant, and we do NOT have cases that reported eating steaks (needle/blade tenderized or any other steak). We are still investigating our cases, and how/if they have common exposure to cases in other states."


In other words, the three cases in Minnesota appear to have nothing in common with the cases in any of the other 15 states identified by CDC.
There also is another anomaly. According to the CDC summary, the first onset date in this outbreak was October 3rd. But the recall initiated on December 24th encompasses meat that was produced on October 12th, 13th, 14th and 21st. Was the first outbreak victim one of the three from Minnesota? Or was meat produced before October 12th also contaminated with
E. coli
O157:H7?
Here is a list of the states that – directly or indirectly – are part of this outbreak. Where available, I have added information that I have received directly from the reporting states.
California: One case. The victim, who was hospitalized as a result of an infection with the outbreak strain, had no known exposure to beef that has been recalled by National Steak & Poultry.
Colorado: One case. The victim was not hospitalized.
Florida: One case. The victim was hospitalized for three days. The individual reported eating at multiple restaurants, and also eating home cooked beef dishes.
Hawaii: One case.
Iowa: One case. The victim, an elderly adult, was hospitalized and has since recovered.
Indiana: One case.
Kansas: One case, located in the Northwest part of the state. The victim, who was hospitalized, ate at a restaurant that was supplied by National Steak & Poultry.
Michigan: One case. The victim was hospitalized.
Minnesota: Three cases that share the same outbreak strain genetic fingerprint, but no common epidemiological link.
Nebraska: Not on the CDC list, but this state was the origin of the Washington case.
Nevada: One case.
Ohio: Two cases.
Oklahoma: One case. The victim, who is described as an adult of 19-24 years of age, was hospitalized.
South Dakota: Two cases. Both were reported in November; the victims were 20 and 23 years old, and neither was hospitalized.
Tennessee: One case.
Washington: One case, who was exposed while traveling in Nebraska. The victim was not hospitalized. The recalled lots of meat apparently were not shipped to Washington State.
The following states have confirmed to me by email that they are not involved in this outbreak: Alabama, Alaska, Idaho, Kentucky, Maine, Massachusetts, Missouri, New Hampshire, North Dakota, Oregon, South Carolina, Texas, Virginia, West Virginia.
If you would like to receive automatic email alerts for all new articles posted on eFoodAlert, please click here or submit your request using the sidebar link.