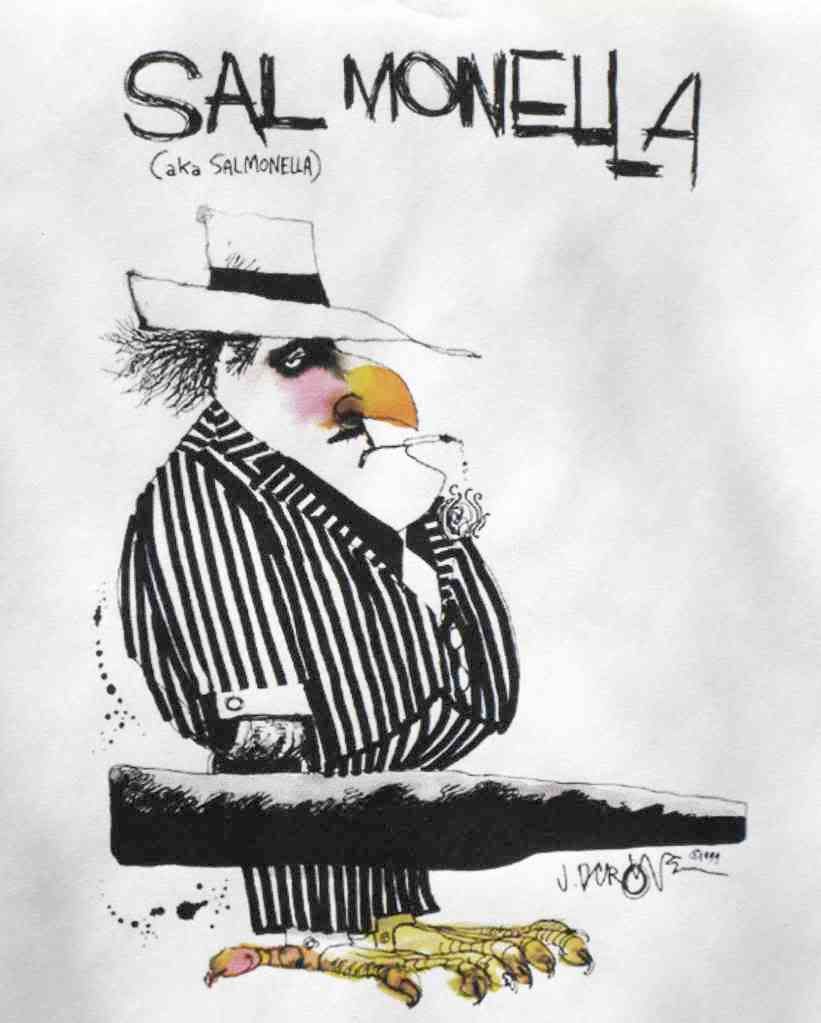 January 7, 2009
The victims of this outbreak are spread across 42 states, including
Minnesota
(30 confirmed cases) and
Ohio
(50 confirmed cases). As of this evening, federal and state investigators have no leads on the source of the contamination. 
All 388 confirmed victims of this outbreak were infected by a single strain of
Salmonella
Typhimurium, indicating a common source for the outbreak. But finding the source won't be easy. 
Recent food poisoning outbreaks suggest several possible scenarios.
The 2008

Salmonella

Saintpaul outbreak

was traced to imported produce that was distributed across much of the United States. Other multi-state outbreaks of

Salmonella

and

E. coli

O157:H7 have been linked to contaminated lettuce and spinach from the Salinas Valley of California.

There have been several

Salmonella

outbreaks traced to frozen, raw or partly cooked chicken entrées that were undercooked by the consumer.

Banquet

brand pot pies were the source of a strain of

Salmonella

that infected at least 272 people in 35 states in 2007.

A contaminated, ready-to-eat processed food may be the source, as was the case in the 2007

Veggie Booty

outbreak.

A contaminated pet food could spark an outbreak. Mars Petcare's dog food was the source of a prolonged

Salmonella

Schwarzengrund outbreak in 2006 and 2007 that affected 62 people in 18 states.

In October 2008, the
West Virginia Department of Agriculture (WVDA)
received one or more consumer complaints of dogs becoming ill after consuming pet food purchased at Wal-Mart. The state conducted lab tests on pet food from Wal-Mart and found
Salmonella
contamination in a sample of cat food and in a sample of dog food. 
WVDA issued a "stop sale" order on both products and reported its findings to FDA. The
cat food eventually was recalled
by Mars Petcare, the manufacturer. Although FDA's Center for Veterinary Medicine investigated the dog food contamination report, no recall notice was ever issued. According to WVDA, the dog food sample contained
Salmonella
Typhimurium.
This could be nothing more than coincidence. The genetic fingerprint information for the dog food contaminant was never released by WVDA. Nor has the profile of the current outbreak strain been published by CDC. But the timing is right. 
Dry dog food has a one-year shelf life, which would be consistent with an outbreak that lasts for several months. And Mars Petcare already has closed one production facility permanently because the company could not rid itself of a chronic
Salmonella
contamination.
Let's hope that the state of West Virginia, the CDC and the Center for Veterinary Medicine are comparing notes.