Our first experiences with restaurant and hotel buffets in Myanmar were not very appetizing. The cooked dishes were tepid, at best, and other perishable items, such as milk and cream, were left at room temperature. The dinner and breakfast buffets at the
Mandalay Hill Resort
hotel were sickening – literally. Ants crawled all over the toaster and
Salmonella
lurked in the "roast beef".
Restaurants that were not buffet-style tended to be more appetizing – at least the problems were hidden from view. But we ate at one restaurant in Mandalay that left nothing to the imagination. We were seated at a table next to a picture window, and had a view of the restaurant's kitchen.
As I gazed into the kitchen, I could see one of the cooks preparing a sauce. I watched with interest as she mixed a few ingredients in a saucepan and stirred the mixture with a large spoon. Then she used the spoon to taste her sauce. Deciding that there was something lacking, she added another ingredient and used the
same spoon
to stir the extra ingredient into the mixture. At this point, she walked out of my line of sight. I can only hope that the sauce was destined to be cooked.
This was my view of the restaurant kitchen, with the cook just disappearing "stage right"
A close-up of part of the kitchen work space
Away from the major cities, kitchen duties sometimes migrated outside – where it's cooler
One of our better hotel breakfast buffet experiences was at the Japanese-managed
Thiripyitsayar Sakura Hotel
in Bagan. Even though the setting was outdoors, there were no ants on the toaster at this hotel!
Eggs were cooked to order
And cooked dishes were kept hot in covered chafing dishes
But the serving spoons were left out in the open air, where bacteria could multiply
Milk sat in an open jug with nothing but banana leaves to keep it cool
As much as I like yogurt, I wasn't even tempted to sample this homemade batch, also sitting uncovered and unchilled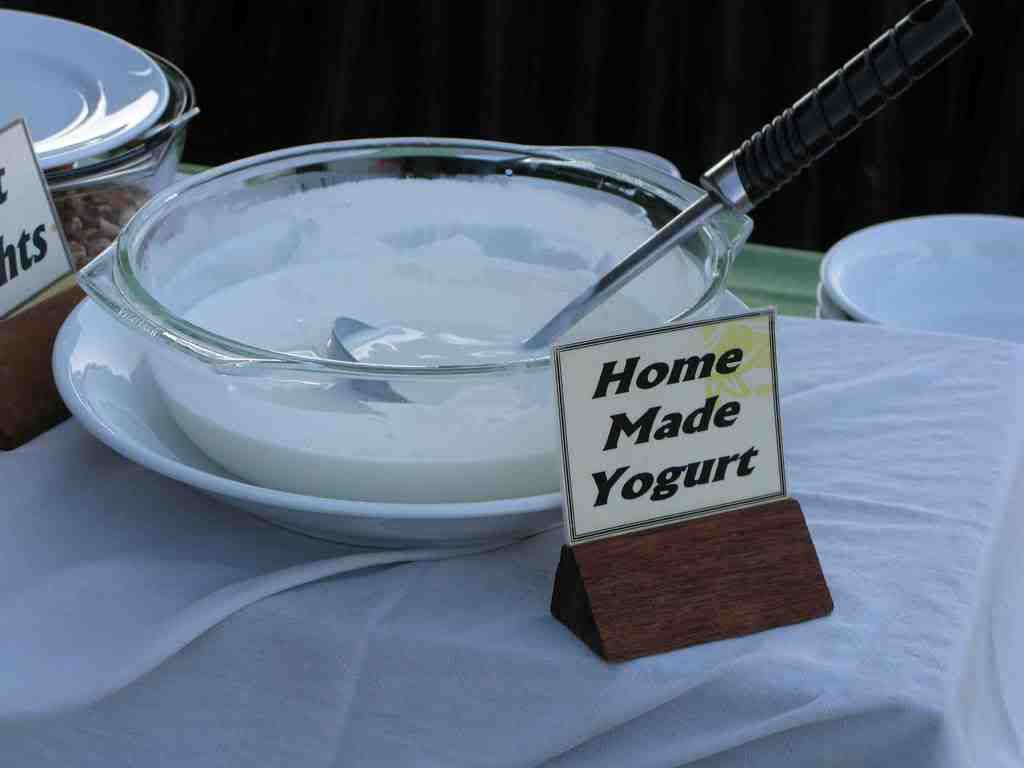 When we returned to Yangon for one last night before leaving Myanmar behind, we realized we had reached a measure of civilization.
Was it because of the burger stand? Not likely!
Perhaps the fast food restaurant? Not a chance!
It was the butter dish on our breakfast table at the Strand Hotel
Our Myanmar adventure began and ended in Yangon. We spent a total of three nights at The Strand Hotel, a grand old British colonial lady. This establishment, which was recently refurbished, is a class act in every respect – the epitome of what a great hotel should be, but seldom is.