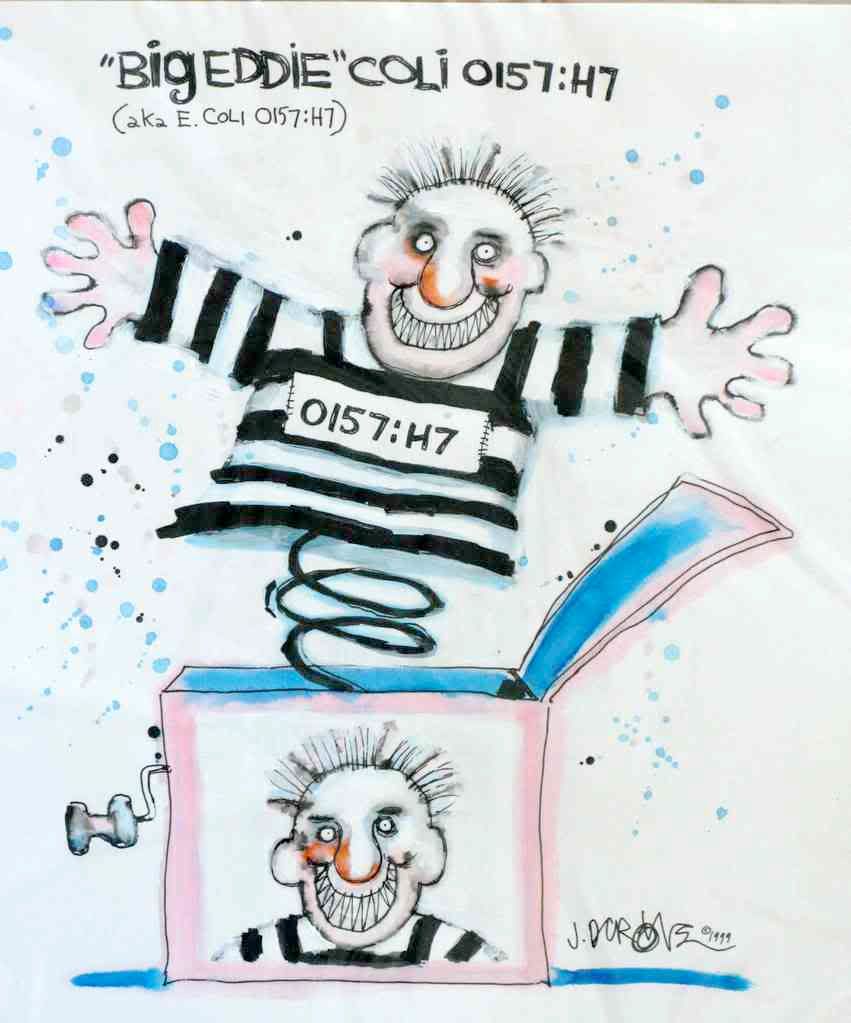 eFoodAlert
has learned that the
E. coli
O157:H7 outbreak in the Niagara region has been linked by genetic fingerprinting to the
recent cross-border outbreak
that caused illnesses in Michigan, Illinois, Ohio, Oregon, New York and the Chatham-Kent region of Ontario.
The earlier outbreak was traced epidemiologically by US and Canadian investigators to California-grown bagged, pre-washed, shredded iceberg lettuce distributed by Aunt Mid's Produce Company of Detroit, MI. Investigators were unable to detect the outbreak strain in any samples of the lettuce, and Aunt Mid's never accepted the validity of the epidemiological findings.
As of early this afternoon, the
Niagara region
has identified 12 confirmed cases of
E. coli
O157:H7 infection; an additional 35 cases are under investigation. Of the 47 cases, 21 have been linked to the Little Red Rooster in Niagara-on-the-Lake and 21 to M.T. Bellies in Welland. Both restaurants closed voluntarily to assist the investigation. Little Red Rooster has been given the go-ahead to reopen tomorrow; M.T. Bellies remains closed except for its bar, which has been open for business throughout this investigation.
There is a good chance that the
Halton region outbreak
also is related to the contaminated lettuce.
E. coli
O157:H7 isolated from one of the cases in the Halton region outbreak is a genetic match for the Niagara outbreak strain. As of yesterday, 28 cases – linked to Johnathan's Family Restaurant in Burlington – were under investigation. Additional genetic fingerprinting results should be available by the end of this week. 
The
North Bay outbreak
, though, is still a mystery. None of the
E. coli
O157:H7 isolates from North Bay match the outbreak strain from Niagara, Halton or Chatham-Kent. We've been told by Andrew Morrison (Media Relations Coordinator for the Ontario Ministry of Health and Long Term Care) that the following Ontario health districts have reported one or more cases that are linked to the Harvey's Restaurant in North Bay. In addition, one case has been reported from British Columbia, and one from Centre de Santé Temiscaming in Québec.
North Bay-Parry Sound (40 confirmed, 163 suspect)

Timiskaming (2 confirmed, 9 suspect)

Sudbury (3 confirmed, 11 suspect)

Porcupine (1 confirmed, 7 suspect)

Hastings-Prince Edward (1 confirmed)

Simcoe-Muskoka (1 suspect)

Toronto (1 suspect)

Niagara Regional Health Unit (1 confirmed, 1 suspect)

Durham (1 suspect)

Peel (1 suspect)

Haliburton-Kawartha Pine Ridge (1 confirmed)

Federal, provincial and district health investigators are examining the possibility of a common food source for the Niagara and Halton outbreaks. So far, according to Morrison, no food items have been identified. But epidemiological and lab analyses are continuing. More information should become available by week's end.
It's anybody's guess, though, when – if ever – investigators will be able to identify the source of the North Bay outbreak.