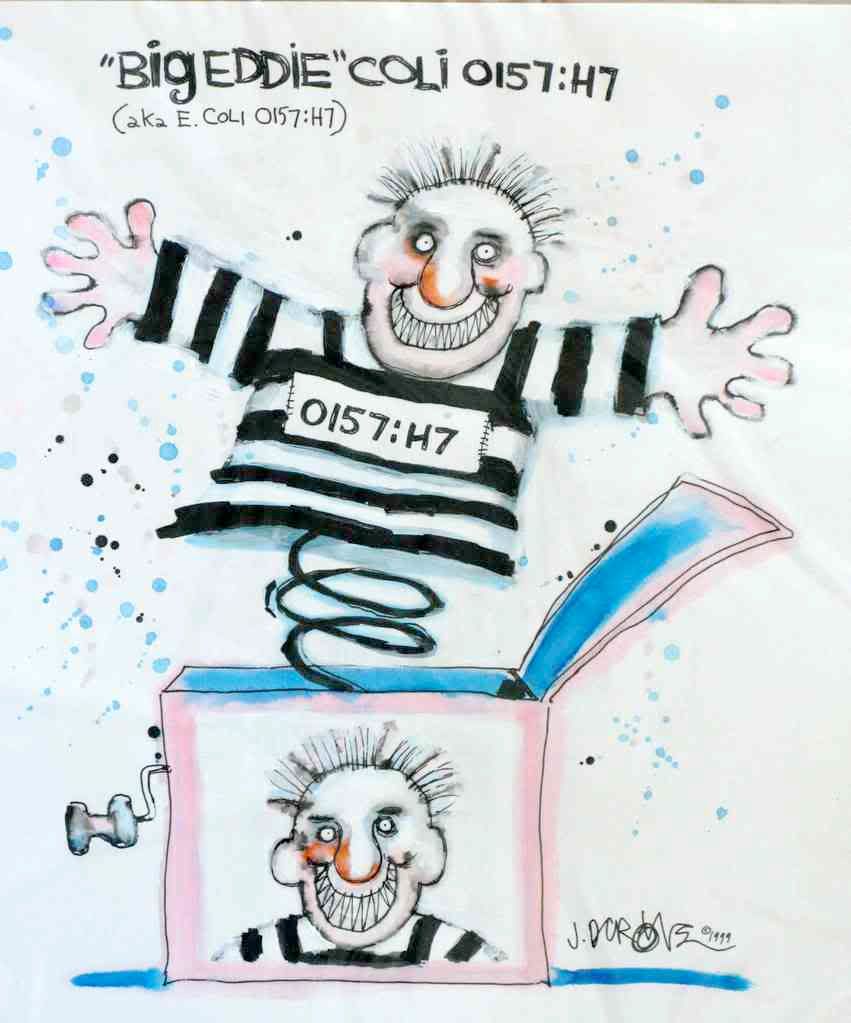 Not content with wreaking havoc in North Bay, Niagara-on-the-Lake, Welland and Burlington, our old friend has also put in an appearance in Waterloo, Ontario. And, just for good measure, he has granted an encore at the University of Guelph.
Based on information released by the
Ontario Ministry of Health
, the illnesses in Niagara-on-the-Lake, Welland, Burlington and Waterloo all are due to the identical strain of
E. coli
O157:H7. So far, this multi-city outbreak comprises 91 cases, 20 of which have been confirmed. 
The two Waterloo victims are both described as "older children"; one has been hospitalized. Both of the Waterloo cases have been lab-confirmed.
The Little Red Rooster restaurant in Niagara-on-the-Lake, and M.T. Bellies in Welland, both of which closed for the outbreak investigation, have reopened after being given a go-ahead by the
Niagara
regional health authority.
Johnathan's Family Restaurant
in Burlington (Halton region) remains closed.
The
University of Guelph outbreak
may be completely unrelated to the other southern Ontario cases. It's still too early to tell. So far, four UoG students have fallen ill with
E. coli
O157; all of them ate at the Pita Pit in the University Centre. The University has closed the Pita Pit while the investigation into this outbreak is carried out.
The UoG campus was the scene of another
E. coli
O157 outbreak
last July
, when a group of international students was infected by the microbe. At least seven – possibly as many as 22 – of the Italian students became infected after eating food supplied by University Food Services. The source of that outbreak was never determined.
As for
North Bay
, that outbreak appears to be winding down. The last report, issued on Wednesday, indicated that no new lab-confirmed cases had been uncovered. And the source of the largest of the Ontario
E. coli
O157:H7 outbreaks remains a mystery.