Outbreak blamed on contaminated acid-curd cheese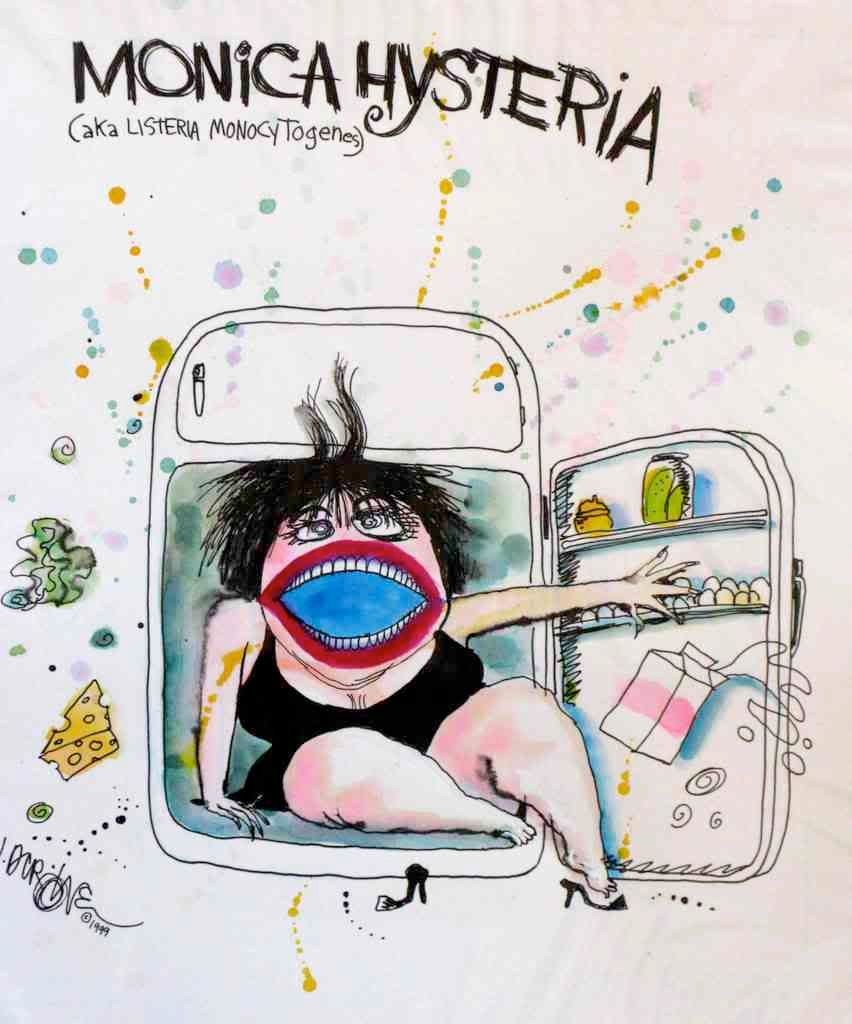 Quargel
acid-cured cheese has been blamed for an
outbreak of
Listeria monocytogenes
that sickened 12 people in Austria and 2 in Germany 2009. Both of the Germans and two of the Austrian victims died as a result of their infections.
The outbreak – which began in June 2009 and continued through December – was first detected in August, when a new genetic strain of Listeria monocytogenes appeared on the radar screen of the binational Austria-Germany laboratory for Listeria, based in Vienna. Reporting of clinical isolations of Listeria monocytogenes is mandatory in Austria.
After determining that 8 out of 9 Austrian victims who participated in an epidemiological study regularly consumed a particular Quargel cheese product, investigators visited
Prolactal
, the Austrian manufacturer of the suspect cheese.
Environmental swab samples taken during a December inspection yielded Listeria monocytogenes that proved to be identical to the outbreak strain recovered from patients. Cheese samples collected on January 18th were found to contain more than 100 Listeria monocytogenes per gram of product (US standards, by way of comparison, mandate an absence of Listeria monocytogenes in a 25-gram sample of a ready-to-eat food).
The cheese, which was
distributed
in Austria, Germany, the Czech Republic, Poland and Slovakia,
was recalled January 23, 2010
. The plant immediately ceased production, pending completion of an investigation into the origin of the contamination. That investigation is still ongoing. No illnesses have been reported from countries other than Austria and Germany.
Quargel is an acid-curd cheese. The milk is first curdled, then subjected to a short two-stage ripening process that uses starter cultures. The shelf-life of the packaged product is just two months.
Infections caused by Listeria monocytogenes typically are most dangerous to the elderly, the very young and others whose immune systems are weak. This outbreak was no exception to the rule. The mean age of Austrian outbreak victims was 74.5 years. Both of the German victims were more than 70 years old.
The outbreak report contained with several observations and recommendations, including:
The outbreak probably would not have been identified without molecular typing.
The effectiveness of microbiological surveillance is entirely dependent upon the consistent and timely submission of all Listeria isolates from clinical laboratories to public health laboratories.
The high case fatality ratio of listeriosis makes a strong case for the importance and priority of improved surveillance.
Finally, the report urges cross-border cooperation in preventing and tracing outbreaks.
One of the reasons that CDC is successful in many of its investigations of food-borne disease outbreaks is the level of cooperation between county, state and federal agencies. While there is room for improvement – especially in communicating the status of ongoing investigations to the public – CDC's ability to detect and react to incipient outbreaks would be far worse in the absence of this cooperation.
International cooperation also exists. The advisory issued by Australia to other governments during the recent
Bonsoy Soy Milk
situation is one example. International cooperation, however, has limited value unless it is coupled with clear communication of risks to potential consumers. In this, food safety authorities around the world still have significant room to improve.
Some countries were very slow to alert their citizens to the Bonsoy situation. And Australia has not issued a single status update on its investigation of the Bonsoy problem since its original announcement. Some Australian Bonsoy aficionados are still demanding that their local cafés carry the product in spite of the health risk.
Investigating outbreaks is not enough. Governments must also learn to communicate promptly and effectively with consumers. Otherwise, recalls go unnoticed, hazards are underestimated, and consumers' exposure to risk continues unabated.
If you would like to receive automatic email alerts for all new articles posted on eFoodAlert, please click here or submit your request using the sidebar link.