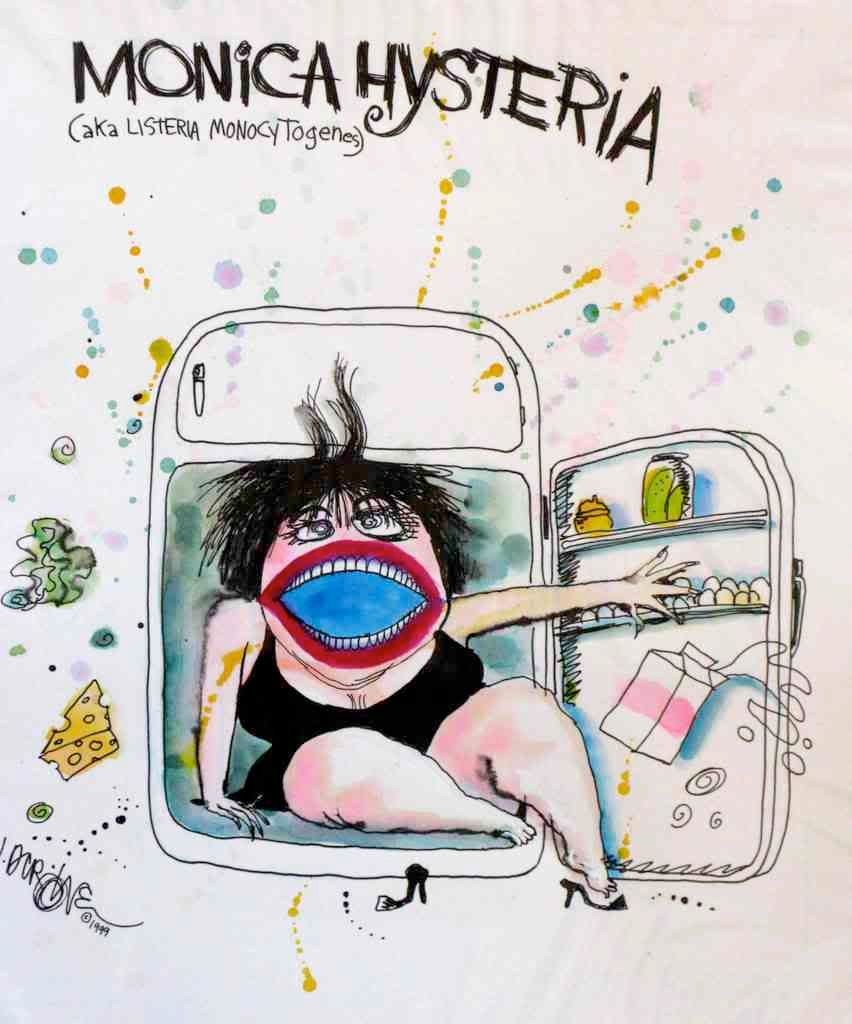 April 17, 2009
Last year
, the people of Chile experienced an outbreak of
Listeria monocytogenes
that was traced to contaminated Brie and Camembert cheeses manufactured by
Chevrita
, a Chilean dairy. In all, the outbreak strain – designated as "
Clone 009
" – was responsible for
65 confirmed cases
of listeriosis from June to December 2008. Two weeks after the contaminated cheeses were recalled from the marketplace, the number of new cases dropped dramatically.
Now, the Chilean health authorities are busy tracing the source of a new outbreak of listeriosis, caused by a different strain of
Listeria monocytogenes
– designated as "
Clone 001
".
This new outbreak is smaller – just 14 cases, as of April 9th. The first isolation of
Clone 001
was reported in October 2008, while the cheese-related outbreak was still active. Six of the 14 cases linked to
Clone 001
were detected in the last quarter of 2008.
Clone 001
is blamed

for
one death and two miscarriages.
Chile's Ministry of Health has been working to determine the source of this latest outbreak. Officials appear to have narrowed their investigations to
a meat packing company
in the northern section of Santiago. The Undersecretary of Health did not release any details of the specific product or products that are suspected of transmitting the pathogen, but reminded Chileans to pay attention to safe food handling practices – especially as the investigation is still in progress.

But there seems to be some behind-the-scenes intrigue to the investigation, according to 

Senator Guido Girardi

. The Senator claims that the Agriculture and Animal Husbandry Service (Servicio Agricola y Ganadero, or SAG) detected

Listeria

in food items produced by

Elaboradora Doñihue Limitada

in early January 2009. 
On February 11th, according to the Senator, SAG determined that two of the Company's products – chicken breast ham (

jamón pechuga de pollo

) and ham cold cuts (

fiambre jamón de cerdo

). The Company was instructed on February 23rd to release only those production lots that had tested negative for

Listeria

.
On April 7th, SAG learned of the presence of
Listeria
in samples of ham (jamón praga) and ham sandwiches that were nearly one month old and, apparently, had been waiting their turn at the lab bench. It would seem that the April findings led to the more intensive investigations referred to by the Undersecretary of Health.
Senator Girardi descried SAG's performance in terms that may resonate with consumers in the the United States and Canada – especially in light of last year's outbreaks of
Listeria
monocytogenes
in Canada and
Salmonella
in the United States, not to mention the present pistachio problem. Loosely translated, the Senator said,
The fault is institutional. The system has few resources, little money and not enough laboratory facilities. SAG promotes food exports, and its criteria and procedures are oriented more in favor of production than sanitation.

("Lo que falla es el diseño institucional. El sistema tiene pocos recursos, pocos fiscalizadores, pocos laboratorios. Se les ocurrió que el SAG fiscalizara los alimentos de exportación y lo hace con criterios y procedimientos más productivos que sanitarios")
Sound familiar?