UPDATE: Number of confirmed cases now 26; 11 states affected
Based on the latest information, released this evening by CDC, there are 26 confirmed victims of this E. coli O157:H7 outbreak, spread amongst 11 states. The South Dakota outbreak victims have been removed from the list.

CDC reports that the link between Fairbank Farm's recalled ground beef and 13 of the 26 outbreak cases has been confirmed by the use of an "...an advanced secondary DNA test..." Results of this test are pending on other outbreak victims. These results will determine whether the number of confirmed victims will change further.
Following is the text of the original eFoodAlert report, posting earlier today.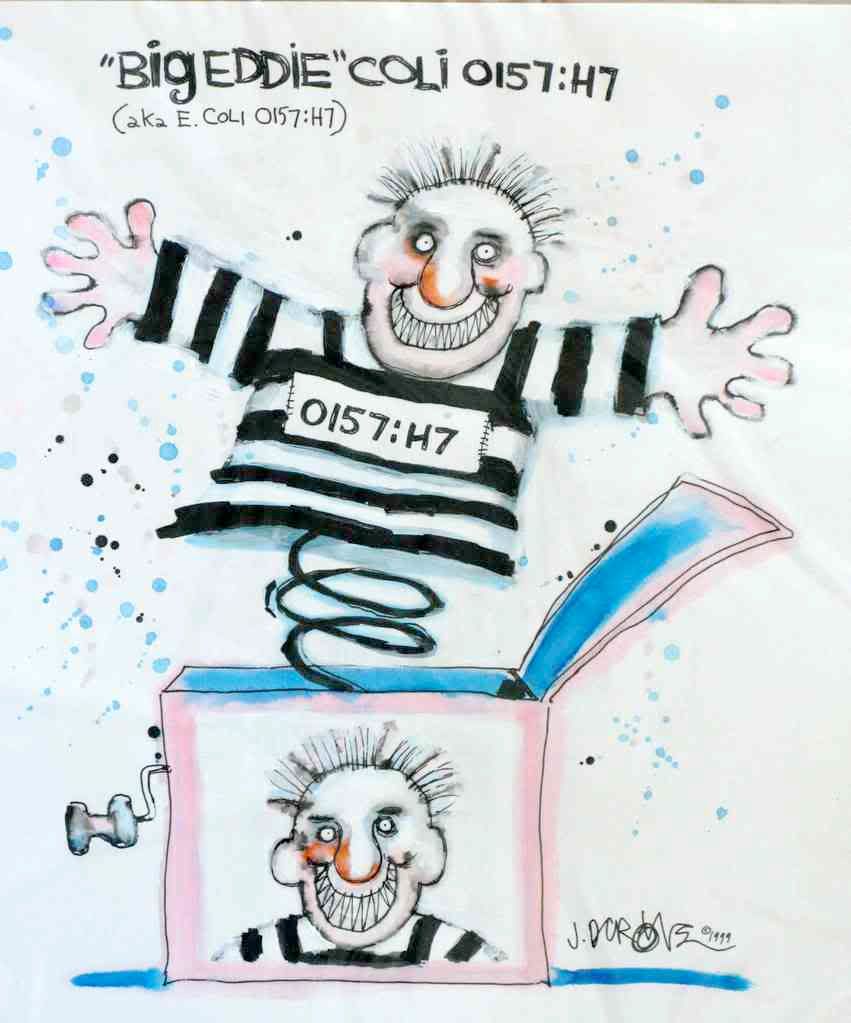 The
CDC
reported late yesterday that ground beef contaminated with
E. coli
O157:H7 is the likely source of an outbreak of gastroenteritis that has affected at least 28 people in 12 states. Sixteen people have been hospitalized – three with hemolytic uremic syndrome – and two people have died so far.
The outbreak stretches from coast to coast, although most of the victims are from New England. It is, though,
unrelated
to the
E. coli
O157:H7 outbreak that sickened more than
20 Rhode Island school children
late last month. Those illnesses were traced to ground beef supplied by a Massachusetts meat processor.
Cases of E. coli O157:H7 that match the outbreak strain have been reported in the following states: California (1), Connecticut (4), Massachusetts (8), Maryland (1), Maine (2), Minnesota (1), New Hampshire (4), New Jersey (1), New York (1), Pennsylvania (2), South Dakota (2), and Vermont (1). A New Hampshire resident and one from New York state are dead as a result of their illness.
On October 31st,
Fairbank Farms
, a New York meat processor, recalled more than 545,000 pounds of ground beef after Massachusetts recovered the outbreak strain of
E. coli
O157:H7 from an opened package of ground beef obtained from a victim of the outbreak.
USDA has released a
partial retail distribution list
for the recalled meat, and several supermarket chains have posted their own notices. Based on what we know so far, some of the
Fairbank Farms
ground beef was sold in the following supermarket chains:
BJ's Warehouse: May have been sold in Connecticut stores
Food Lion LLC: Food Lion, Bloom and Bottom Dollar Food in North Carolina, South Carolina, Virginia and West Virginia
Giant Food Stores: Available in Giant and Martin's stores
Price Chopper: All stores in Connecticut, Pennsylvania, New York and Vermont
Shaws: All stores in Connecticut, Maine, Massachusetts, New Hampshire, Rhode Island and Vermont
Trader Joe's: Stores on the eastern seaboard, including those in Massachusetts, Rhode Island, Connecticut, New York, New Jersey, Maryland, Delaware, District of Columbia, North Carolina, Virginia and Pennsylvania
Wegman's
supermarket chain is unaffected by this recall. Fairbank Farms is
NOT
a Wegman's supplier.
Packages of the recalled ground beef bear the USDA seal, "Est. No. 492"; most packages carry a sell-by date of September 19 through 28, 2009, although some of the Trader Joe's packages may be labeled with a sell-by date of October 6 or 7, 2009.
All of the recalled meat has passed its sell-by date and is no longer in store display cases. It may, however, be in your freezer. Please check all packages of ground beef that are stored in your freezer and discard or return any meat that has been recalled.
The slaughterhouse that supplied meat to Fairbank Farms has not yet been identified. The same slaughterhouse that supplied Fairbank Farms may also have sold the contaminated meat to processors in other parts of the country. This would account for the illnesses in California, Minnesota and South Dakota. It's possible that more meat will be recalled.
CDC offers consumers the following reminders:
Cook Beef Thoroughly
Eat ground beef or ground beef patties that have been cooked to a safe internal temperature of 160° F.
Use a food thermometer to measure the internal temperature—it is the only way to be sure ground beef is cooked to a high enough temperature to kill harmful bacteria.
Color is NOT a reliable indicator that ground beef or ground beef patties have been cooked to a temperature high enough to kill harmful bacteria such as E. coli O157:H7.
For more information go to Is It Done Yet? (USDA).
Refrigerate Meats
Refrigerate raw meat within two hours after purchase or within one hour if temperatures exceed 90° F.
Store ground beef in a refrigerator set at 40° F or below, and cook or freeze it within one or two days of purchase
Refrigerate cooked meat and poultry within two hours after cooking, and use or freeze it within three or four days



E. coli
O157:H7 can be a life-threatening illness, especially to children and to the elderly. If you or a member of your family begin to experience symptoms of
E. coli
gastroenteritis
– especially bloody diarrhea – seek immediate medical attention. Also, contact your local health department to report your illness and be prepared to describe in detail everything you have consumed within the several days before you became ill. Your prompt action may save someones life.