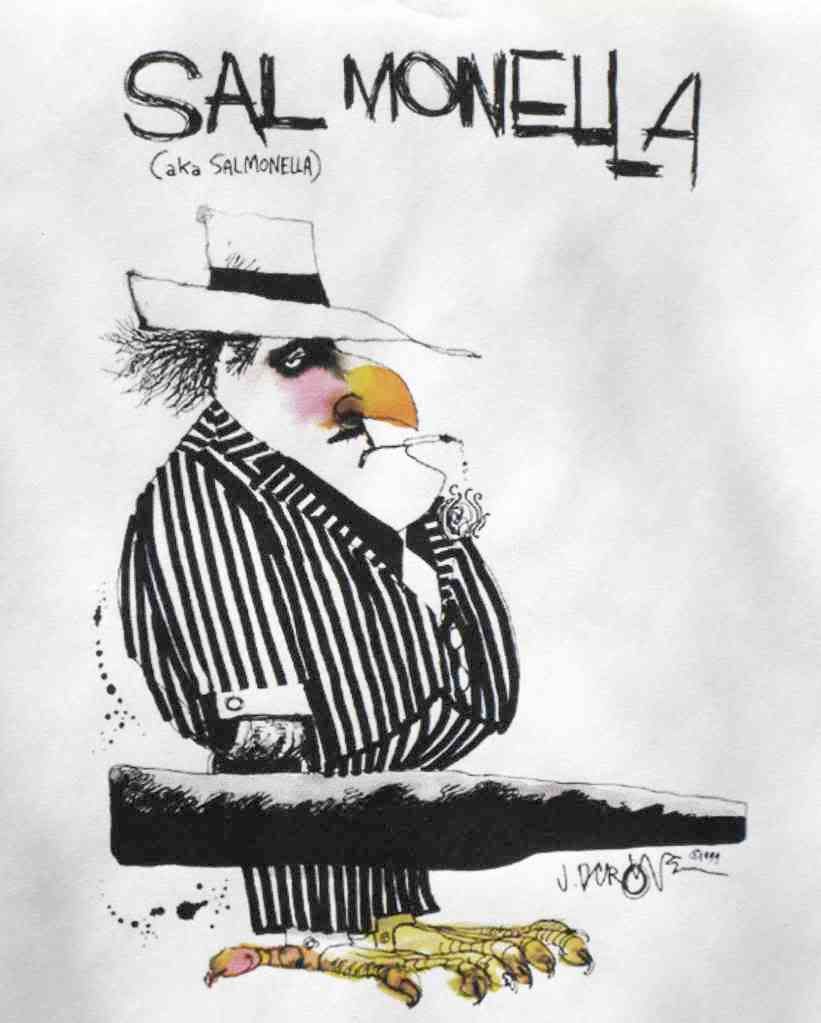 May 9, 2009
The seeds, which were imported from Italy by
Caudill Seed Company
(Louisville, KY), were the source of a strain of
Salmonella
Saintpaul that infected 228 people in 13 states over a three month period. The investigation was complicated, as
Caudill
supplied alfalfa seeds to a number of different sprout growers in several states.
The first – and larger – prong of the
Salmonella
 Saintpaul outbreak began on February 2nd, according to the Nebraska's
Douglas County Health Department
. This phase lasted into early March, with a few sporadic cases being reported as late as April 5th – 186 victims in all, 73% of whom reported having eaten alfalfa sprouts.
The first wave of victims – residents of Illinois, Iowa, Kansas, Minnesota, Nebraska, and South Dakota – had consumed sprouts grown by

Sunsprout Enterprises

, a Nebraska company. 

Sunsprout

purchased its alfalfa seeds from

Caudill

. 
While FDA did not succeed in finding the outbreak strain of

Salmonella

in alfalfa sprouts supplied by

Sunsprout

, the agency found a different strain –

Salmonella

Typhimurium in a sample of the company's sprouts obtained at a Nebraska restaurant. And testing of a sample of alfalfa seeds obtained at the

Sunsprout

facility yielded yet another strain –

Salmonella

Give. 
While FDA was still investigating the first outbreak, a second wave of illnesses was reported; 42 cases of

Salmonella

Saintpaul in Florida, Iowa, North Carolina, Michigan, Minnesota, Nebraska, Ohio, Pennsylvania, Utah, and West Virginia. Once again, alfalfa sprouts were the most probable source of the pathogen. The implicated sprouts were traced back to the same seed supplier –

Caudill Seed Company

– but this time, to three different growers, located in Michigan, Minnesota and Pennsylvania. 
On
April 26th
, FDA and CDC issued a joint warning to consumers to avoid eating raw alfalfa sprouts. And on
May 1st
, FDA sent a letter to seed suppliers, distributors and sprout growers to remind them of the agency's guidelines on safe growing procedures for seed sprouts. 
What happened to the contaminated seeds and sprouts?
Caudill
agreed to "withdraw" the contaminated seeds. There was no public recall of the imported seeds, as they were never distributed directly to consumers. The Michigan, Minnesota and Pennsylvania growing operations that were the source of alfalfa sprouts in the second wave of illnesses never were identified by name; nor were their sprouts recalled from the marketplace.
Which growers were implicated in the second wave of
Salmonella
illnesses? FDA is not saying. And the CDC outbreak report simply states,
"The degree to which the various sprout growers involved have appropriately and consistently implemented FDA recommendations or other protective methods is under investigation. These outbreaks might indicate a need to determine how well this important but voluntary guidance is being implemented. Additional studies of measures to prevent, detect, and eliminate contamination of seeds and sprouts also are needed."

We do not believe that a general warning against consuming raw sprouts, combined with a general statement that growers' practices are under investigation is enough. The consumer deserves – needs – to know which sprout growers may have cut corners or ignored portions of the FDA guidelines on safe sprouting. It is unfair to tarnish the reputations of conscientious sprout growers by putting all growers in the same category.
FDA has issued specific warnings against consuming products from uncooperative food processors in the past. Why not name the all of the sprout growers implicated in this outbreak?