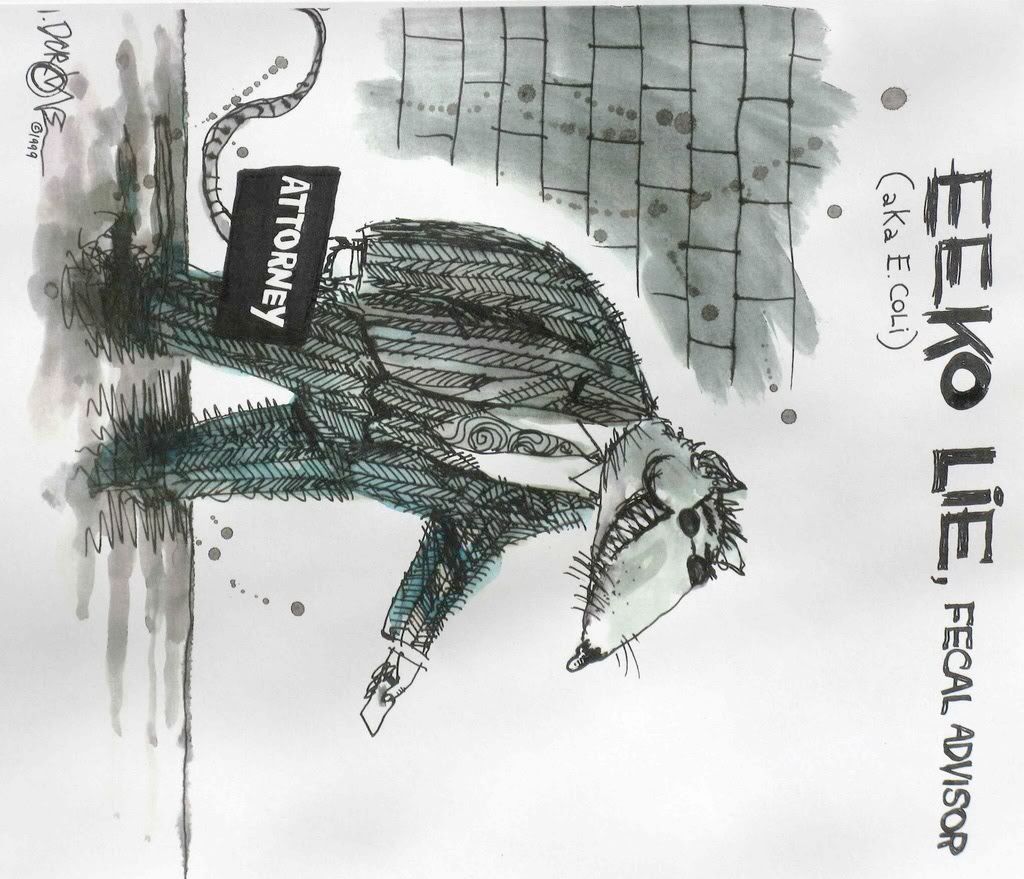 October 22, 2009
Last year, the state of Oklahoma and the province of Ontario each experienced a major restaurant-linked outbreak of E. coli illness.
The
Oklahoma outbreak
began in late August 2008, and continued into early September. Most of the victims had patronized the
Country Cottage
buffet-style restaurant in Locust Grove, OK – a small town approximately 50 miles east of Tulsa. The outbreak sickened at least 341 people, 70 of whom were hospitalized. One victim died.
All of the outbreak victims were infected with E. coli O111:NM. Investigators concluded that the outbreak was food-borne, but could not recover the outbreak strain from any samples – food, water or environmental – taken at the restaurant. Nor did interviews with victims and with healthy restaurant patrons point to any single food as the probable source.
The
Ontario outbreak
began in October 2008, and ended about one month later. Twenty-six of the 235 victims were hospitalized. There were no deaths. The outbreak victims all had eaten – or had direct contact with someone who had eaten – at a
Harvey's
fast food restaurant in North Bay.
The victims of the Ontario outbreak were infected with E. coli O157:H7. The outbreak strain could not be recovered from any of the multitude of food, water and environmental samples submitted for lab analysis. But information obtained by interviewing outbreak victims implicated Spanish onions as the probable source.
There were several similarities between the two outbreaks:
A significant number of victims were from out of town – nearly 75% in the Oklahoma outbreak, and more than 16% in Ontario;
The outbreak strain could not be recovered from any sample other than clinical specimens;
At least one restaurant employee declined the investigator's request to submit a stool sample, requiring the health department to take legal action;
Lawsuits have, or are about to be, filed against the owners of Country Cottage and Harvey's;
Both restaurants reopened and are operating today.
What has been done to ensure that these restaurants are operating safely? Are they being watched more closely? Did the owners/operators learn from their experiences?
Country Cottage Restaurant, Mayes County, Oklahoma
The county sanitarian inspected Country Cottage on August 23, 2008, less than 48 hours after the health department was alerted to a cluster of illnesses among restaurant patrons. The inspection uncovered several significant violations, including: improper hot and cold holding of foods, improper food storage, improper labeling and storage of toxic items, and inadequate cleanliness of food contact surfaces. A separate review of cleaning practices revealed that the restaurant did not have written protocols or schedules for cleaning any part of the restaurant – including the kitchen and the bathroom areas.
Unfortunately, based on the most recent inspection reports posted on the
Oklahoma State Department of Health
website, the operators of
Country Cottage
have not learned their lesson. The restaurant accumulated a total of 13 violations during its last two inspections. Among these were potential cross-contamination of raw and cooked foods, inadequate cleaning and maintenance of toilet facilities, evidence of potential rodent or insect contamination, and deficiencies in cleaning and sanitizing food contact surfaces.
Harvey's, North Bay, Ontario
North Bay health officials descended on Harvey's very soon after learning of the E. coli O157:H7 outbreak. In this case, however, they found very little wrong – no food safety-related violations, and just three general sanitation/maintenance issues, the most serious of which was a lack of paper towels in the staff washrooms. Employee interviews later uncovered variability in the cleaning and sanitation of the restaurant's onion dicer – a sanitation lapse that may have contributed to the outbreak.
North Bay District Health Unit
does not post restaurant inspection results on its website. But I am informed by Peter Jekel, the District's Public Health Director, that Harvey's has been inspected four times since it reopened. Furthermore, a District health inspector was in the restaurant and carrying out in depth food preparation audits during the entire first two weeks after
Harvey's
reopened.
I asked Director Jekel whether the North Bay District Health Unit was planning to add a restaurant inspection report feature to its website, or to initiate a "Scores on Doors" program. He replied that they are investigating a program that would enable posting of restaurant inspection results, but are waiting for some direction from the Board of Health. Likewise, a decision to mandate the posting of inspection scores by restaurants also would be up to the Board of Health.
Consumers are able to obtain restaurant inspection results from the District Health Unit by telephone. A simple request for a specific restaurant's most recent inspection result typically is filled within a week; more complex requests take longer, and the consumer may be charged a fee, depending on the amount of time required to research the request.
While it's useful to be able to find inspection reports on-line, and even more convenient to see the Score on a restaurant's Door, Toronto's recent
Ruby Chinese Restaurant
outbreak shows that these reports have limited value. An inspection report offers a snapshot of a restaurant's condition on the day of inspection, and it is only as reliable as the inspector.
You, the Consumer, are the best judge of whether or not to patronize a particular restaurant. Ask yourself these questions each time you enter a restaurant:
Does the dining area look and smell clean?
Are the dishes, glasses and flatware clean?
Are the servers clean and tidy?
Are the washrooms clean, well maintained, and supplied with toilet paper, hot water, soap and towels?
Does the dish you ordered look, smell or taste "off"?
If the restaurant serves fish or seafood, is there a "fishy" smell?
If the restaurant is buffet-style, are the hot dishes kept hot and the cold dishes cold?
Is the buffet food protected with a "sneeze-guard"?
Does each buffet item have its own serving utensil?
If you're unhappy with the answers to any of these questions, or if something just doesn't feel right, remember that you can always...