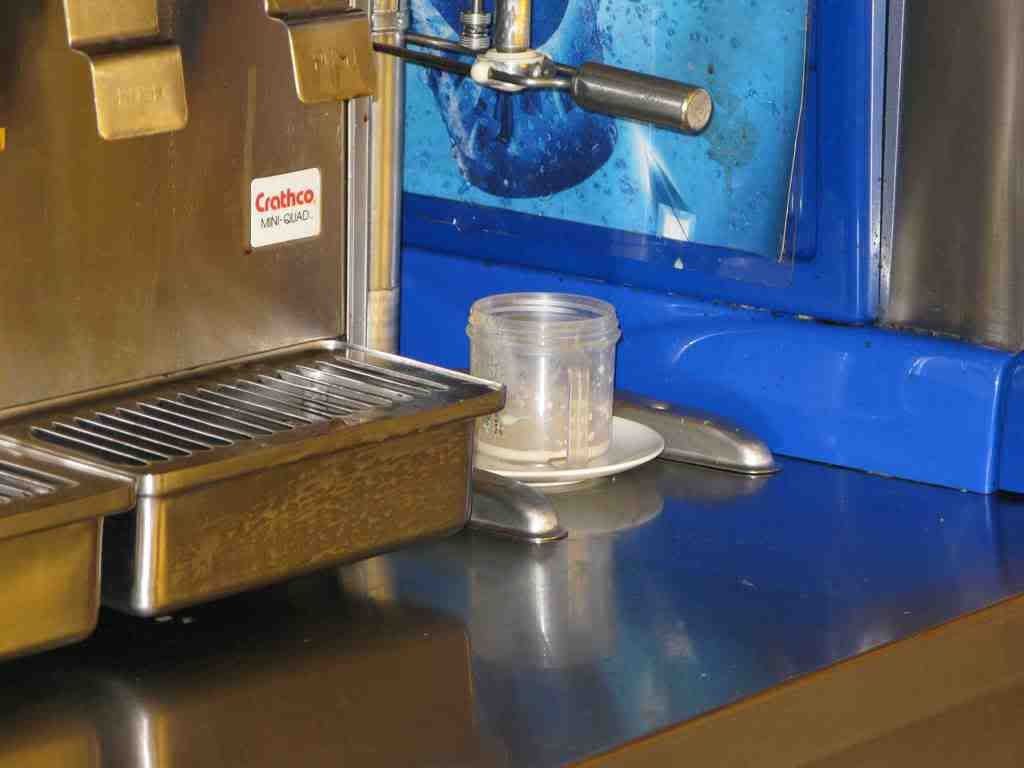 When traveling in foreign lands, especially those in the "Third World", it can be comforting to stumble across a western food chain. On our third morning in Bangkok, we spotted a Dunkin' Donuts coffee shop and decided to drop in for coffee and donuts.
We walked up to the counter, selected our donuts, and ordered two coffees with cream. The clerk grabbed two empty coffee cups from the stack and walked over to the cream dispenser. She lifted the handle twice, to deliver two "shots" of cream into the handy plastic cup that was sitting - probably all morning - under the spigot (see photo). Then, she poured the cream from the plastic cup into the two empty coffee cups.
Fortunately, I happened to glance that way just as she was dispensing the cream, and and yelled out for her to
STOP
! The poor girl looked quite bewildered and couldn't understand what she had done wrong. I told her that we wanted the cream to be dispensed directly from the spigot into the coffee cups. She nodded, and poured the cream from the coffee cups back into the plastic cup to await the next customer. I then asked for clean coffee cups. She complied, and began, once more, to dispense fresh cream into the plastic cup, and then into the coffee cups. I stopped her again.
Finally, Michael (my husband and traveling companion) asked the clerk whether they had cold milk in their refrigerator. He instructed the clerk to pour milk from the refrigerated jug into two clean coffee cups. She did so, and we sat down to enjoy our hard-earned coffee and donuts. But from that day on, I made sure to carry non-dairy creamer with me at all times.
Michael and I spent four weeks touring countries in Southeast Asia. We visited Thailand, Laos, Cambodia and Myanmar. During the next several weeks, I'll be sharing with you some of our experiences from this highly educational – and sometimes challenging – voyage of discovery.