This is a mirror of eFoodAlert on WordPress. To subscribe to automatic email alerts, please go to the eFoodAlert on WordPress blog page and complete the EMAIL SUBSCRIPTION form.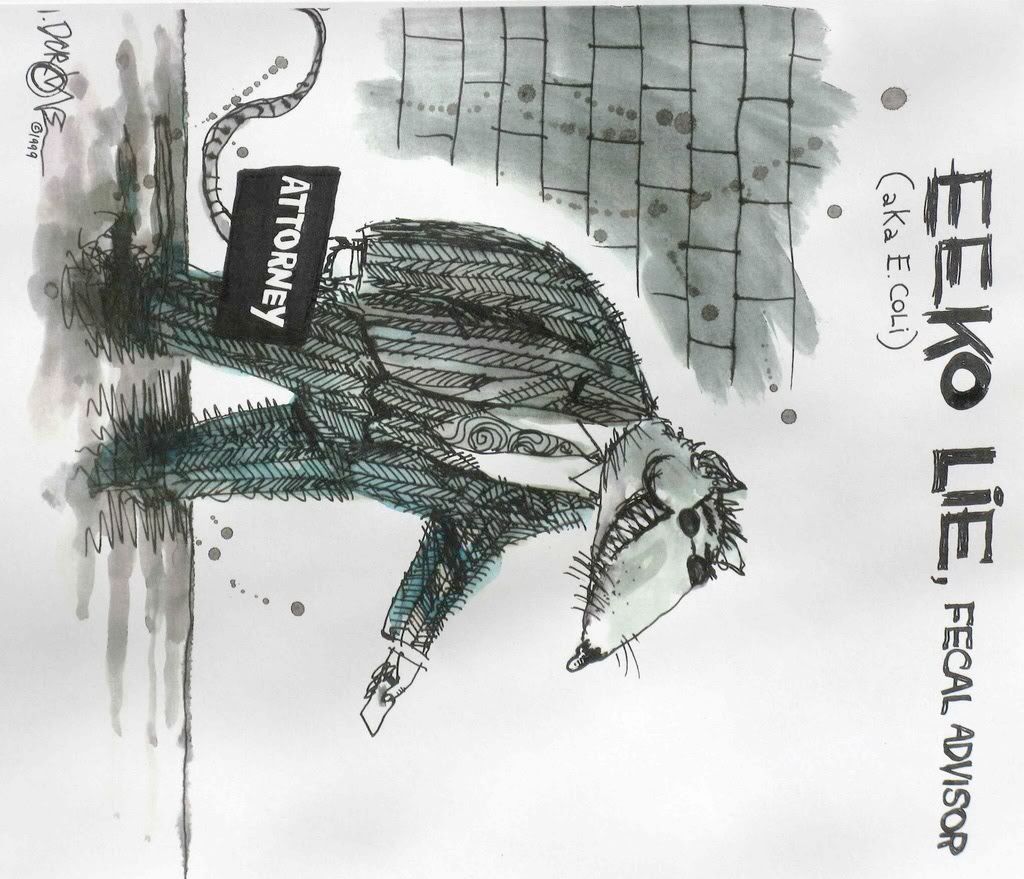 Bean sprouts grown in Lower Saxony (that's in Germany, not Spain) are the latest suspects in the month-long German
E. coli
O104:H4 outbreak.
BBC Europe
reports today that the epidemiological spotlight has landed on a plant nursery in Uelzen, south of Hamburg.
The German Ministry of Health is waiting for the results of lab tests before committing to this latest theory. For now, authorities are maintaining a warning against eating tomatoes, cucumbers or lettuce.
Nevertheless, the nursery has been closed.
While the outbreak strain of
E. coli
O104:H4 is a novel strain, sprouts of various kinds - beans, alfalfa, broccoli, et cetera - have been the source of numerous documented outbreaks of
Salmonella
and
E. coli
in
Europe
,
North America
and
Japan
.
The conditions used to produce sprouts - a warm and moist environment - are ideal for the growth of bacteria such as
Salmonella
and
E. coli
. In many cases, the seeds used for sprouting are already contaminated with the microbes. And washing either the seeds or the raw sprouts will not remove the pathogens.
The German outbreak ranks as the deadliest recorded outbreak of enterohemorrhagic
E. coli
(EHEC)- and one of the largest.
As of today
(June 5th), 627 cases of hemolytic uremic syndrome (HUS), and a further 1,536 cases of "simple" EHEC infections have been reported from Germany. HUS is a life-threatening complication that is associated with EHEC infections.
Fifteen HUS patients have died in Germany, as have 6 of the outbreak victims who suffered from EHEC without HUS - an overall death rate of 0.97% (21 dead out of 2163 confirmed illnesses).
The outbreak has spread beyond the borders of Germany, with 31 cases of HUS (one death) and 71 non-HUS cases of EHEC (102 cases in all) reported from eleven European countries, including:


Austria.- 2 EHEC


Czech Republic.- 1 EHEC


Denmark.- 7 HUS; 11 EHEC


France.- 10 EHEC


Netherlands.- 4 HUS; 4 EHEC


Norway.- 1 EHEC


Poland.- 1 HUS


Spain.- 1 HUS


Sweden.- 15 HUS (1 death); 31 EHEC


Switzerland.- 3 EHEC


United Kingdom.- 3 HUS; 8 EHEC


All but one of the victims from these eleven countries reported having traveled to or from Germany during the typical incubation period for infection.
In addition to the European cases, the
US CDC
reports four suspect cases in the US - three of them suffering from HUS, and two suspect cases among US military service personnel in Germany.
Finding the source of the
E. coli
O104:H4 - if, indeed, the source has been found - won't prevent the case count from continuing to rise. The incubation period, combined with the lab time required to complete a diagnosis, ensures that additional new cases will be reported. But the torrent should slow to a trickle over the next several days.
Even after the outbreak is over, this incident will fertilize numerous research projects. Still unanswered, for example, is why a disproportionate number of healthy women were stricken by HUS - a complication that more typically affects children. Questions about how this strain came into being, and why it is so deadly, also beg to be investigated.
Finally, expect the German people to question - rightly or wrongly - the competence of the epidemiologists and scientists at the
Robert Koch Institute
and the
Federal Institute for Risk Assessment
.